Disk of 2017 > [Archived] Clasic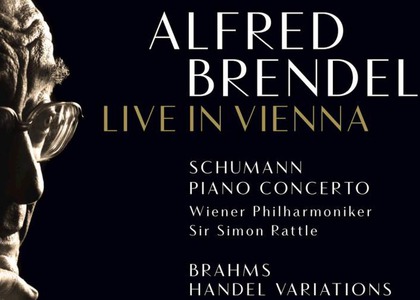 Pianist Alfred Brendel – the album Live in Vienna
Monday, 4 June 2018 , ora 10.47

Today I present you an album released on March 9, 2018, signed by Alfred Brendel, an album called Live in Vienna that brings together two older recordings that have never been published before on CD: the Concerto by Robert Schumann, performed in 2001 alongside the Vienna Philharmonic Orchestra conducted by Sir Simon Rattle and the Variations and Fugue by Johannes Brahms on a theme by Händel in a recital at the Konzerthaus in Vienna in 1979.

The recordings are made by the Austrian Broadcast and the Decca record label now introduces them in the circuit of commercial recordings - especially in recent times, many jewels in the archives of public broadcasters were published by commercial record labels, to the benefit, I think, of the listeners.

Alfred Brendel currently is 87 years old and is recognized as one of the greatest pianists of the 20th century, an authority on the interpretation of music by Beethoven and other composers. Alfred Brendel was the first pianist to ever record - in the 50's - the complete piano works of Beethoven. He has also recorded the complete concerts by Mozart. But not only that - his long career also features complete works by Schubert and the Concerto for piano and orchestra by Schonberg, which established him in the current repertoire. To celebrate his 65th birthday, Philips released in 1996 a set of 25 discs with his recordings. In 1999 he published the complete concertos for piano and orchestra by Beethoven, recorded alongside the Vienna Philharmonic Orchestra conducted by Simon Rattle. In 2001, when he turned 70, he went on a world tour - part of this tour was the concert on March 11, 2001, when Alfred Brendel performed the Concerto by Robert Schumann alongside the Vienna Philharmonic Orchestra conducted by Simon Rattle.

You will listen to a very lively recording of this Schumann concerto: Alfred Brendel's technique isn't perfect, but he is very expressive and convincing in his musical intentions - he is, without a doubt, a great pianist and gives us musical samples that have to be acknowledged.

Alfred Brendel - Live in Vienna - an album where we find a recording from a recital performed on June 4, 1979 at the Konzerthaus in Vienna. It's the first disc recording of the Variations and the Fugues by Brahms on a theme by Handel, performed by Brendel, to ever be released. Of course, the technical standards are those available 40 years ago, but we have the chance of discovering Alfred Brendel in his prime, in a difficult score with an impressive architecture, admired even by Wagner, to whom Brahms was often contrasted, especially in the 19th century.

Alfred Brendel - one of the great pianists of the 20th century - stopped performing in concerts and recitals in 2008, when he was 77 years old but has, ever since, taught others, he reads, he writes - Alfred Brendel was acknowledged for his special intellectual abilities that greatly contributed to the development of his exceptional career. In an interview in The Guardian in 2016, Alfred Brendel confessed that, looking back, he himself can't figure out how he's achieved so much: "to play, to write, to look, to live, to love". He was the right man at the right time when, in the 50's, the great record labels started an industry of recording in Vienna, a space in which the high-class culture found a favorable economic context. Alfred Brendel has recorded no less than 114 titles over his 60-year career of playing the piano, and his echoes can still be heard to this day.

The album can be heard on Radio Romania Music on Monday, May 21, starting from 19.00, and as a rerun on Sunday, May 27, starting from 13.05.
It will be permanently available for hearing on the website of the Discs of 2018 project.
Cristina Comandașu
Translated by George Arion, MTTLC, An I;
Proofreading: Mihaela Ghitescu, MTTLC, An II