Disk of 2017 > [Archived] Clasic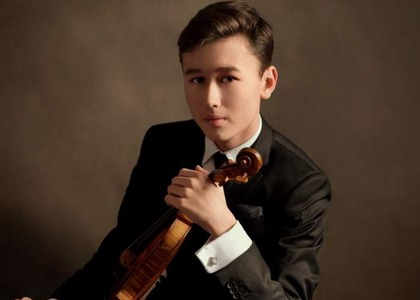 The violinist Daniel Lozakovich – works by Johann Sebastian Bach, Music box, on 18th of June
Wednesday, 18 July 2018 , ora 11.07

I propose you an album released recently, on June 8th, under the logo of the prestigious Deutsche Grammophon House: it is the first disc of a very young Swedish violinist, considered by the press a wonder-child of the world interpretative art – Daniel Lozakovich. We have had before the opportunity to listen to Lozakovich at the Radio Romania Music in recordings received from the European Broadcasting Union during the last year festival in Verbier.

Daniel Lozakovich signed the collaboration contract with Deutsche Grammophon in 2016 – at that time he was only 15 years old! Nowadays he is 17 years old and is warmly welcomed on the great stages of the world, where he makes an impression through the maturity of his interpretation and his excellent technique. If you did not know that you had a 17 years old boy, you couldn't guess that the author of the recordings that you will listen to is so young.

It is really an act of courage to be 17 years old and to release your first LP and this LP to include only Bach's works (the two concerts for violin and orchestra and Partita No.2 with the famous Ciaccona in the end). However, Daniel Lozakovich sincerely confesses that he wanted to take this risk of playing the works of his favourite composer, Johann Sebastian Bach, and thus showing what he can do and in the same time serving this immortal art that is cult music. Lozakovich started to study violin rather by chance when he was 6 years old. He was too passionate about sport and his parents considered it would be better for him to learn music as well. It coincided with the moment when Lozakovich heard for the first time a violin recital – he was so impressed that he said he wanted to be a violinist himself. After the first violin lesson, his teacher confirmed that Daniel has a talent out the ordinary and has to become a violinist.

Indeed, only an extraordinary 17-years-old-artist could have such a mature, articulate and convincing vision of the Partita No.2 for violin by Johann Sebastian Bach.

Daniel Lozakovich has several important awards, but more than that he has drawn the attention of some personalities such as Spivakov, Nelsons and Gergiev who invited him to perform together. In 2016 he debuted at the festival in Verbier, in the 2017-2018 season he performed alongside the Boston Symphony Orchestra, he had a tour in Japan together with Valery Gergiev and concerts with other important european orchestras including the Royal Stockholm Philharmonic Orchestra, in the capital of his native country. He studies at Karlsruhe and Geneve and says he wants to do all the things at their time, even if his achievements go far beyond his age.
Lozakovich is not the type of the extrovert musician, whom the record houses can sell as a nonconformist presence; there's nothing maverick in his interpretative views. He is simply a great, very talented and mature, very convincing and very balanced musician, which in a world of excesses and speeds makes him different from everyone else. He is a very dedicated man to his passion, about whom we will hear many good things in the future.
The album signed by Daniel Lozakovich can be listened to on Monday, at 19.00 and in reruns on Sunday, 24th of June at 14.30.
Cristina Comandașu
Translated by Georgiana Nuțu, MTTLC An;
Proofreading: Mihaela Ghitescu, MTTLC An II