Disk of 2017 > [Archived] Clasic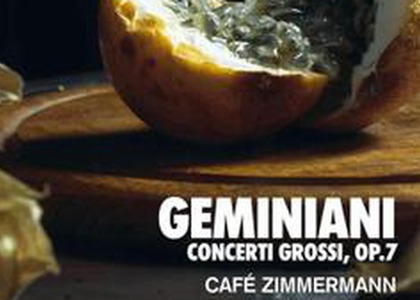 Francesco Geminiani - Concerti Grossi Op.7. Performed By The Ensemble Café Zimmermann - CD Review, 20th of October, 2018
Friday, 26 October 2018 , ora 9.13

This album is mainly aimed at old music lovers - a new record by Café Zimmermann cannot be overlooked, given the prestige of these musicians and their past albums - which were, of course, mainly comprised of the music of Johann Sebastian Bach. The name of the ensemble is borrowed from the famous café in Leipzig where Bach held concerts between 1729 and 1739. The ensemble adds to the music of Bach's sons, Vivaldi, Charles Avison, Jean Henri d'Anglebert, much like the album "Dom Quichotte", which was recorded with the countertenor Dominique Visse. The resident ensemble of the "Grand Théâtre de Provence" of Aix-en-Provence now delivers an album with Italian music - the 6 Concerti Grossi Op.7 composed by Francesco Geminiani, a violinist and composer who had a brilliant career in England. Recorded in September 2017, this material was officially released on September 14th, 2018, under the AlphaClassics record label, known for its focus on old music. TCafé Zimmermann presented these concerts five days later at the Old Music Festival in Timisoara.

Geminiani Opus 7 - we can talk about it in terms of a premiere, as these are concertos that are practically unknown in the contemporary music era. It was an entirely new experience for the members of the ensemble - to submit themselves to this music with enthusiasm, even testing their own experience in the field, according to harpsichordist Celine Frisch. Surprisingly, this was also the case for violinist Pablo Valetti. "How?" was the first reaction of the members of the Ensemble Café Zimmermann after their first reading of the scores - some parts controversial, others equally surprising and familiar."

Every concerto brings something new, we have a multitude of musical forms, concertos in 3, 4 and 5movements, with original solo parts for instruments atypical of the era - the bassoon, for example - but also special effects, as well as different textures. "Music that leads us to unexpected paths," says Pablo Valetti, "from church to theatre, from Italy to France, from the 17th century to the 18th century." I make no comment on the value of the interpretation, which is a parameter of excellence in this portion of historical music, as is customary with the Ensemble Café Zimmermann. We are here only for the profile aspect of this new record that gives us access to a previously unknown musical world.
Marina Nedelcu
Translated by Proca Florin, MTTLC AN II