Disk of 2017 > [Archived] Clasic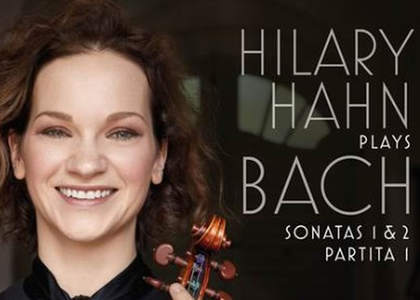 Violinist Hilary Hahn – Solo Violin Pieces by Johann Sebastian Bach
Monday, 5 November 2018 , ora 8.55

I present to you for the first time the American violinist, Hilary Hahn's newest album, released on October 5th under the Decca record label. On this CD, you will find three solo violin pieces by Johann Sebastian Bach. At almost forty years old, Hilary Hahn turns to Bach again, after recording his works on her first album from 1997. Now, in 2018, she approaches the three pieces for unaccompanied violin that she did not record when she was seventeen, namely Partita No. 1 and Sonatas No. 1 and 2.

A difficult challenge indeed for Hilary Hahn to outperform her previous Bach interpretations: in 1997, the most exigent critics specialized in Bach interpretations, declared themselves delighted with Hilary Hahn's debut album, which contained her interpretation of Partita No. 3 and Sonatas No. 2 and 3. Twenty years later, Hilary Hahn, now a legendary figure on the American violin scene, turns to Bach's unaccompanied pieces once more with this recently released album, now debuting in Romania. Meanwhile, she won three Grammys, performed on the most prestigious stages, played with the most important orchestras, transformed into a bona fide star and had two children - a lifetime of experiences, which reflects in the way she interprets Bach, who is a daily influence on Hahn, as well as other great violinists. The fact that she has been soulfully playing Bach every day for the past thirty years says it all. This great experienced violinist introduces us to the world of Bach's music - seen by some people as hermetic - and transforms it into something intelligible, luminous, sometimes very humorous, other times very serious, but always very human.

Most American reviews of this album have been positive, enthusiastic even, and the critics have noted that Hilary Hahn's comeback showed how mature she had become and that the twenty years of experience gained since the first album was evident. As sure as she was at seventeen that her first CD had to be about Bach, now, at almost forty, she has been just as confident in continuing her project of recording all six of Bach's sonatas and partitas for solo violin. Over the years, many have asked Hahn if she would record more of them, but everything has its time and place. The clearness of the sound, the brilliant technique, the poetry, but also the robustness, the instrument that sounds like an orchestra, the polyphonic lines that are perfectly executed - all of these create a world; the world in which the greatest violinist of our time had grown and evolved.

The new Bach album by violinist Hilary Hahn will be broadcast for the first time on Radio România Muzical on 22nd of October, at 7 p.m.
Cristina Comandașu
Translated by Ivan Alexandra, MTTLC, an I