Disk of 2017 > [Archived] Clasic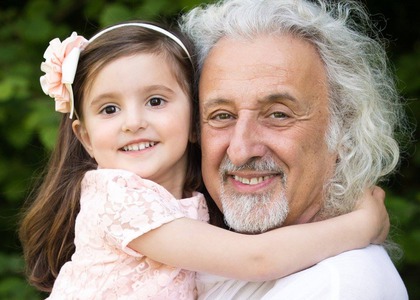 Mischa Maisky and Lily Maisky – The "Adagietto" album at CD Review - 27th of October 2018
Monday, 5 November 2018 , ora 8.59

The cellist Mischa Maisky has brought together the most beautiful and lyrical pieces on his last album, released on 17th of August 2018 under the Deutsche Grammophone record label.
The album "Adagietto" is named after the third part of Gustav Mahler's Fifth Symphony, a part for which the artist has a certain weakness. He himself made the harp and cello arrangements, recorded all the instrumental tracks and invited Sophie Hallynck in the studio to play the harp.
Adagietto - which is an album that carries personal meaning - marks Maisky's 70th birthday, which he celebrated a month before the CD release. But it is also a tribute to one of his youngest daughters. "For my dearest and most adored princess, Mila Elina" was Maisky's statement.
Most of the songs had been recorded with Lily Maisky, his oldest daughter. What a privilege it must be to be in such a musical family! Lily Maisky has been playing the piano since the age of four, went to Purcell School of Music where she also learned jazz music. This young lady took masterclasses with Martha Argerich, Dmitri Bashkirov, Joseph Kalichstein, Pavel Gililov, Vitalij Margulius and now plays a very important part in this duo (later to become the Maisky Trio). As expected, this kind of father-daughter musical connection can only occur at great closeness. Both play the two Concertos for harpsichord , strings and basso continuo by Johann Sebastian Bach in slow tempo, arias from Mozart's The Magic Flute, Samson and Dalila by Camille Saint Saens, the Intermezzo Meditation from Jules Massenet's Thais, pieces by Pyotr Ilyich Tchaikovsky and Aleksandr Scriabin or the famous Solveig's Song from the musical play Peer Gynt by Edvard Grieg.
Mischa Maisky brings another character into this album, namely his son, Sasha, who joins the cello- piano team with his violin, the duo thus becoming the very sought-after trio, popular on all the great stages of the world. The Maisky family has recently returned from a China tour, but is already preparing for a South American one. The artist Mischa Maisky ends the album with two live recordings of two pieces - slow tempo parts from Robert Schumann's and Johannes Brahms piano Quartets. His collaborators in these performances are legendary figures from the European musical scene such as Martha Argerich, Janine Jansen and Julian Rachlin.
Of course, this mixture of artists is evident in the cello inspired arrangements that offer us the chance to discover new tonalities - that are especially laden with emotion - in this extremely familiar repertory. Also, by its nature, Adagietto is a lyrical album, in which the cellist Mischa Maisky exhibits his romantic temper in all its greatness. I believe that Mischa Maisky is the kind of artist that could bring together people from all kinds of different musical backgrounds, as long as they want to hear these moments of peace.
Mischa Maisky is known worldwide for his successful career, for his nonconformist shows and for his obvious and immense talent. Additionally, it is important to note that he is the only one to have studied with both Mstislav Rostropovich and Gregor Piatigorsky, which can only mean the highest form of Russian musical interpretation.
Marina Nedelcu
Translated by Ivan Alexandra Simona, MTTLC, 1st year