Disk of 2017 > [Archived] Clasic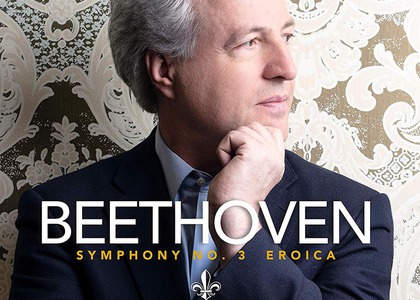 Manfred Honeck – Symphony No. 3 by Beethoven: Music box, on 5th of November
Tuesday, 13 November 2018 , ora 9.14

The 21st of September marked the debut of an album by the Pittsburgh Symphony Orchestra, conducted by Manfred Honeck under the American Reference Recordings House. On this disc are Symphony No.3 Eroica by Beethoven, the Horn Concerto No.1 by Richard Strauss and recordings from the concert.
It was easy to see from the beginning the value of this album, deemed by American reviewers a mandatory acquisition for anyone who is passionate about classical music. After all, at the beginning of this year, the Pittsburgh Symphony Orchestra and conductor Manfred Honeck received two Grammy awards - one for the best orchestral performance and the other for the best-engineered classical album - for their previous album featuring Symphony No.5 by Shostakovich.
Over the years, we have presented at the Radio Romania Music all the released discs from the Fresh! Series of the Reference Recordings House with the Pittsburgh Symphony Orchestra and its conductor of ten years, Austrian born Manfred Honeck. There are exceptional discs with extraordinary technical quality, all of them live recordings; the disc presented in this article is the 9th in this series, released in 2013.
I could say that this is not the exception for the rule of the exceptional quality of Manfred Honeck's work. His interpretation of the Symphony No.3 by Beethoven makes us rediscover this popular piece, which has enjoyed so many famous interpretations throughout its history. Honeck, a thorough researcher of Beethoven's scores, presents us with a vision that encompasses historical research, his own vision of a well-known connoisseur of German music, everything organized in a very impressive impeccable construction, accompanied by a very versatile orchestra with a particularly warm and compact sound. And what's more, I think, is that beyond professionalism, comprehension and technique, Honeck brings emotion, feeling, an invisible connection with the listener even through a record. This version must be listened to on a performant device without any other activity, in order to truly live this universe created by Beethoven's music in the interpretation of a formidable contemporary orchestra, led by what some call one of the greatest, if not the biggest, conductor of our time. I particularly recommend the famous second part, the funeral march, and the polyphony at the end of this disturbing part.
On the same album, there is a rarely performed concerto: the Horn Concerto No.1 by Richard Strauss. Featuring the American horn player William Caballero, this record from 2012 could become a 21st century standard for this particular concerto, which Strauss wrote for his father, a horn player in the Munich court orchestra. However, Strauss the father refused to perform this piece because he found it too difficult. William Caballero has been the first horn player in the Pittsburgh Symphony Orchestra since 1989. He has forty years of musical experience. He says that only now, with so many years of work behind him, can he truly reach the depths of this small but technically and artistically complicated concerto.
Cristina Comandașu
Translated by Georgiana Nutu,
MTTLC 1, University of Bucharest