Disk of 2017 > [Archived] Clasic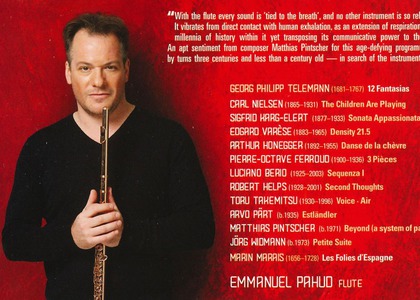 Emmanuel Pahud – Solo at the CD Review, 17th of November 2018
Wednesday, 28 November 2018 , ora 10.50

Emmanuel Pahud, a name that needs no introductions, one of the best flutists in the world, has an impressive discography that covers almost the entire specialized repertoire for this instrument, or at least the most important pieces. Even so, the artist never ceases his search for innovation, wishing to expand and promote flute music. The main idea behind the Swiss flutist's last discographic appearance - "Solo", the double album released on May 4th under Warner, is to present baroque repertory in alternation with flute pieces from the 20th and the 21st centuries.
The name of Georg Phillip Telemann appears in this context as a leitmotiv, through the 12 Fantasies for Solo Flute, which are not interpreted one after the other, but, as I said, are featured in alternation with pieces by Toru Takemitsu, Carl Nilsen, Pierre-Octave Ferraud, Arvo Părt, Luciano Berio, Mathias Pintscher, Jork Widmann, Edgar Varese, Arthur Honegger. What is Emmanuel Pahuds opinion about this? "I preferred to combine, to weave Telemann's Fantasies and pieces by Pierre-Octave Ferraud, with other works. These compositions can be very different, but they can also be seen as elements of the same musical material. Telemann, Varese, Berio, they all wrote important pieces for solo flute, real musical gems, reference points in the history of this instrument".
"This album represents a solid strategy on how to bring modern repertory closer to the audience, armed with one of the most praised flutists of our time, who is unmatched in terms of sound and crystal-clear purity, eloquence and originality. From the perspective of this style of interpretation, Emmanuel Pahud is a true chameleon, always adjusting the colour of his music, always interested in - to quote him again- "a vision that creates bridges or mirrors. Some pieces demand an echo, others an answer, urging the listener to make their own selections, and thus to discover for themselves the power and the clarity apparent in different contexts or from different juxtapositions".
This flawlessly recorded album, "Emmanuel Pahud - Solo", seeks to expand and promote the modern repertory for the flute with extreme subtlety.
Marina Nedelcu
Translated by Filipov Mădălina, MTTLC, 2nd year