Disk of 2017 > [Archived] Clasic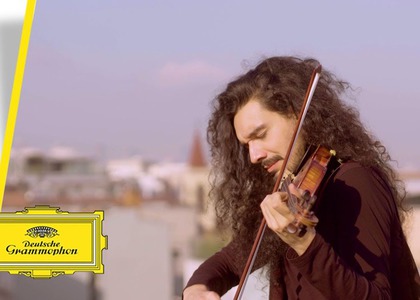 Violinist Nemanja Radulovic – the album Baika: Music Box, November 12
Monday, 3 December 2018 , ora 11.04

On Radio Romania Muzical, on Monday, November 12, starting from 19.00, for the first time, an album released only 3 days ago, on November 9th: Baika, by violinist Nemanja Radulovic.
Baika means "fairy tale" in Serbian and I think it's a very good title for Radulovic's new album which, just like his earlier ones, has something about it that sets it apart.
Aram Khachaturian, Nikolai Rimsky Korsakov and Alexandre Sedlar - a fairy tale about the East, about a musical world that lies east of the Black Sea which may be familiar to us Balkans, but very exotic for Western Europe. The repertoire chosen for this album makes it the most mature out of all of Nemanja Redulovic's previous recordings, in my opinion. Redulovic, a Serbian-French violinist with a nonconformist image who has figured out that reinterpreting various pieces of traditional music or extremely well known repertoires is a way of standing out in a very competitive world, as is the world of classical music today.
Baika opens with the difficult and spectacular concerto in B minor by Aram Khachaturian, which Nemanja Radulovic has performed many times with the Borusan Philharmonic Orchestra in Istanbul, led by Sascha Goetzel. Nemanja proposes a rhapsodic interpretation with a surprisingly good orchestra, where all the musicians are able to immortalize the colours that give flavour to Khachaturian's music - written in classic forms and language, but with sonorities deriving from traditional Armenian music. If the recording of Tchaikovsky's concert, released last year under Deutsche Grammophon, stressed dynamics and tempo too much for my taste, the version by Nemanja Radulovic and the Borusan Philharmonic Orchestra led by Sascha Goetzel for Khachaturian's concert is alive, compelling, and technically and artistically sound. It may well become a 21st century standard for a score that is quite rarely performed with precision, mainly because of the technical difficulties in the soloist's score.
What's the most famous Eastern fairy tale? Arabian Nights. Radulovic's choice to include the Scheherazade Suite by Rimsky Korsakov on the album isn't surprising at all, especially as this work used to be paired with Khachaturian's concerto opus in Radulovic's tours with the Istanbul Philharmonic. What we will listen to, however, isn't the original score, but rather a transcription for violin, piano and a string ensemble arranged by composer Alexandre Sedlar after Nikolai Rimsky Korsakov - a classical adaptation, where we find the main themes of the original score, with an greater role given to the violin, seen as a solo instrument. It's another type of journey in the world of Arabian fairy tales, while still tastefully keeping the beauty of the original. Nemanja Radulovic recorded the pieces alongside pianist Stephanie Fontanarosa and the Double Sense ensemble.
For me, the most interesting work on this album where Nemanja Radulovic reveals himself the most, with a preference for traditional music and transcriptions, is the very rarely performed trio for violin, clarinet and piano by Aram Khachaturian. The work was written in 1932, eight years before the more famous concerto for violin and orchestra, but the resemblance in ideas, themes and structure between the two can be easily observed after a simple first hearing - in both works, Khachaturian uses themes derived from Armenian, Georgian and Turkmen traditional music. The interpretation by Nemanja Radulovic, Andreas Ottensamer and Laure Fave Kahn in the Trio for Violin, Clarinet and Piano emphasizes this local specificity in Khachaturian's music.
Nemanja Radulovic's latest album concentrates all the ideas we found in his earlier releases under Deutsche Grammophon - works from the great classical repertoire, traditional music, arrangements and, in general, a nonconformist presence. Everything has already been gone through, but we were missing the salt and pepper: so Nemanja Radulovic ends with the work Savcho 3, transcribed from his friend Alexandre Sedlar's concerto for sax and orchestra - an extract of the world of traditional music from around the Black Sea in just 3 minutes.
Those who buy the album online also get another work by Sedlar, called "Turkey", as a bonus.
You can listen to the album Baika on Monday, November 12, starting from 19.00, or at any time on the website of the Project Discs of 2018.
Cristina Comandașu
Translated by George Arion, MTTLC, 2nd year