Disk of 2017 > [Archived] Clasic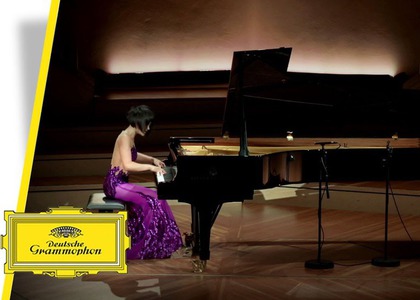 Pianist Yuja Wang – The Berlin Recital – Music box, 26th of November 2018
Wednesday, 19 December 2018 , ora 10.24

An album titled "The Berlin Recital" by the Chinese pianist Yuja Wang has been released on 23rd November 2018 under the Deutsche Grammophon record label. It contains the recording of the live recital performed by the renowned 31-year-old musician with the Berlin Philharmonic on the 1st of June 2018. It was both a romantic and a modern recital with pieces written by Russian composers such as Rachmaninoff, Scriabin and Prokofiev, but also three pieces by the contemporary composer Gyorgy Ligeti. We shall listen to some selected parts from this recital, starting with Sergei Rachmaninoff's Prelude No. 5, op. 23, Tableaux Étude No.1, op. 39, and op. 33 No.3, Prelude op. 32 No.10.
Yuja Wang's connection with Russian music is a special one - one of her first memories are of her mother as a ballerina performing in Tchaikovsky's Swan Lake. After finishing her studies in China and Canada, she went to the Curtis Institute of Music in Philadelphia, where she studied under professors who were former Russian Piano School students - a school that generally highly values quality of sound. So she listened to a lot of recordings of Russian pianists, and in this way becoming closely acquainted to their interpretative style. Her debut was Tchaikovsky's Concerto No. 1, where she replaced Martha Argerich. Yuja Wang fancies Russian music, as it allows her to express her feelings easily. She finds the Russian sound nostalgic and it makes her feel like home.
After having explored Ravel's music in her previous CD from 2015, Yuja is now approaching Aleksandr Scriabin's world of sonatas in an extremely mature and very creative manner. Scriabin was also the Russian composer who was closest to the French impressionists in terms of style, especially in Piano Sonata No. 10, which is also the last sonata that he wrote in 1913.
Yuja Wang has had a privileged relationship with the Berlin Philharmonic ever since 2013; last season she performed this piano concerto with the orchestra, and she also took part in an evening dedicated to chamber music. In the spring and summer of 2018, she presented her Berlin programme in a European and North-American tour, a performance highly acclaimed by both audience and critics.
The truth is that Yuja Wang's success is not just the product of marketing. In her case. Her fame is not only due to good publicity, especially since Yuja Wang is indeed, at this moment, one of the world's most spectacular pianists. She has it all: apart from her impeccable, almost inhuman technique - it is said that it sounds as if she plays the piano with more than two hands - the fact that Yuja Wang finished her studies in America under world renowned professors of the highest calibre had a remarkable outcome: she found the key to the great art of interpretation. And she is not at all insensitive as some consider her to be; she merely has a different kind of sensitivity, which is probably common nowadays, in a world with no place for exaggerated sentimentality, and where intelligent people are usually more introverted.
By releasing this album, Yuja Wang proves that with the crossing of the 30 years milestone there comes a certain degree of artistic and personal maturity that perfectly suits modern Russian music. Her interpretation of one of the most difficult and complex sonatas by Prokofiev - Sonata No. 8, which is one of the last so-called war sonatas composed by Prokofiev and performed for the first time on 30th of December, 1944 - was truly impressive.
A memorable recital that could only end with the audience asking for an encore. Actually, there were four encores, all of them released by the Deutsche Grammophon label.
Yuja Wang's new album will debut on Radio România Muzical on November 26th, at 7 p.m, or anytime on the site of the "Albums of 2018" project.
Cristina Comandașu
Translated by Alexandra Ivan, MTTLC, 1st year