Disk of 2017 > [Archived] Clasic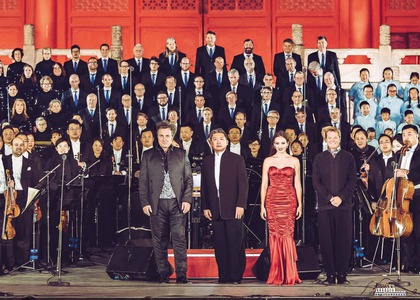 Deutsche Grammophon 120. Live from Beijing - Music box, January 21st 2019
Monday, 11 February 2019 , ora 14.17

This week and next week, I invite you to discover two records celebrating the 120th anniversary of the Deutsche Grammophon record label, one of the most prestigious brands in the world when it comes to classical music.

120 years after its foundation on December 6, 1898, the label decided to celebrate in a way that will greatly affect potential audiences for classical music around the world. The Deutsche Grammophon name has become synonymous with excellence, so it comes as no surprise that they settled for nothing less: first they targeted Asia, then the traditional audience in Europe and America. They did this through a series of impactful musical events of great amplitude; the first one was in Beijing on the 10th of October 2018, a concert now available on a record released on the 18th of January, scheduled to play on Monday, the 21st of January, a few days after its release, on Radio România Muzical.
The first classical music concert performed in the Forbidden City in Beijing, after more than 20 years; 1,200 honorable guests; a Chinese orchestra, a choir from Vienna, a Chinese conductor, actually the first Chinese conductor to conduct a concert in the Forbidden City. The soloist: Russian pianist Daniil Trifonov, who now lives in the U.S. 200,000 people watched the concert online; 6.3 million people watched it on TV; 130 million people around the world looked up information on this event. The Deutsche Grammophon concert in Beijing was truly grand event, and I think it is perfect for anyone who believes there is a future for classical music. We, who listen to Radio România Muzical, strongly believe in it.

The concert featured the Shanghai Symphonic Orchestra, Wiener Singakademie, the Children's Choir of the Spring Festival in Shanghai, the conductor Long Yu, along with various important soloists - soprano Aida Garifullina, baritone Ludovic Tezier and tenor Toby Spence in one of the most renowned and spectacular pieces of the 20th century: Carmina Burana by Carl Orff. A difficult piece, in a truly celebratory performance.
Of course, playing a central role in this event was Long Yu, little known in Romania, but he is the most important conductor in contemporary China, the musical director of the Shanghai and Guangzu Symphonic Orchestras, artistic director and main conductor of the Beijing Philharmonic, and main guest conductor at the Hong Kong Philharmonic. He also took part in noteworthy endeavours abroad: he conducted the New York Philharmonic, Pittsburgh Symphonic Orchestra and NDR Elbphilharmonie, among others. In June 2018, he signed a contract of exclusivity with Deutsche Grammophon, the first record of which being the one I recommend to you today. Obviously, Deutsche Grammophon is making a very smart move by releasing so many materials in Asia, where there is a large potential audience and a rapidly developing middle class with a growing interest in classical music. Of course, another smart move is to show respect to the locals, which they did by finishing the October 10th concert with two Chinese pieces: the Enchanted Night by Liu Tianhua and the traditional piece, The Jasmine Flower.
On the 5th of December 2018, Deutsche Grammophon organized another anniversary concert in Tokyo, headlined by violinist Anne Sophie Mutter and conductor Seiji Ozawa; we will listen to the recording of this concert next week, on Monday, January 28th, at 7.00 p.m. on Radio România Muzical. The series of anniversary concerts continued on the 6th and 7th of December in Seol, where the main participants were pianist Seong Jin Cho and Anne Sophie Mutter. On January 19th 2019, the Deutsche Grammophon celebration reached Europe with a concert in Hamburg featuring Helene Grimaud and Andris Nelsons; there will also be a concert with the Vienna Philharmonic Orchestra in April, and a concert in London in May, with Peter Gregson and Vikingur Olafsson as soloists. If we add to these the Yellow Lounge concerts - classical music performed in clubs - which will launch in Asia after a very successful run in Europe, we could say that yes, it is a special anniversary for Deutsche Grammophon and an opportunity for the revival of interest in classical music on a global scale.
The Live in Beijing record will broadcast on Radio România Muzical, Monday, January 21st, at 7.00 p.m.

Translated by Alina-Nicoleta Duminică,
MTTLC 1, Universitatea din București