Disk of 2017 > [Archived] Clasic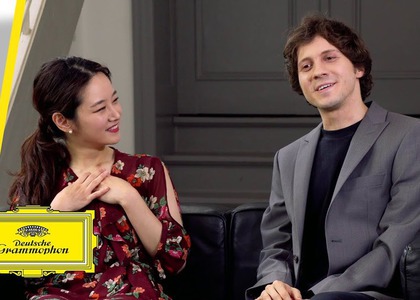 The debut album of pianist Rafal Blechacz and violinist Bomsori Kim – Music box, 11th of February, 2019
Thursday, 21 February 2019 , ora 12.41

The album will be released on the 25th of January and it contains chamber music composed by Faure, Debussy, Szymanowski and Chopin, in the interpretation of South-Korean violinist Bomsori Kim and Polish pianist Rafal Blechacz.
In the last 11 years, 33-year-old pianist Rafal Blechacz, one of Deutsche Grammophon's stars, released seven albums under this label and he is now working on his eighth. The album released on 25th of January is the first one with chamber music that also has another instrument added to it. Rafal is the winner of the 2005 edition of the International Chopin Piano Competition in Warsaw, which is considered one of the most difficult piano competitions in the world. Obviously, he is an expert in Chopin's music, having dedicated three of his Deutsche Grammophon albums to the Polish composer. He is also an interpreter of good repute when it comes to Polish music - especially Szymanowski - but also French music. On this recently released album, his reportorial choices mirror the abovementioned: Polish and French opuses for violin and piano. The album opens with Gabriel Faure's Sonata No. 1, op. 13 in A Major, followed by Claude Debussy's Sonata in G Minor, Karol Szymanowski's Sonata op. 9 and Nathan Milstein's transcription of Chopin's Nocturne No. 20.
Who is Bomsori Kim, the South-Korean violinist, of whom Romania knows so little? She is 29 years old and in 2013, she won second place at the ARD competition in Munich (the first prize was not awarded that year). She later won prizes at prestigious competitions such as the Tchaikovsky competition (in Moscow) and the Queen Elisabeth competition (in Brussels). Bomsori Kim studied in South Korea and went to Julliard School of Music in New York. She collaborated with some of the most important orchestras and conductors from all over the world (Europe, Asia and America). She is a rising star in the classical music world, carrying the "sound of spring" with her, with expressive interpretation and a clear sound, according to international critics.
And what is the history behind this album? As many other stories these days, it all started with an email. In 2016, Bomsori Kim was competing in the Wieniawski Competition, which is held every 5 years in Poznan, Poland. It was a great success as she won second place and the audience's prize, as well as the Poznan Philharmonic's appreciation, who invited her to be resident artist for the institution's 2018-2019 season. Rafal Blechacz watched this competition on TV and admitted later that Bomsori Kim was his favourite contestant. One day, Kim received an email: "Hello, I'm pianist Rafal Blechacz and I would like us to collaborate on a project". Obviously, Bomsori was very honoured and astonished, because Rafal Blechacz was already a very important figure in today's world of classical music, but she wasn't sure if someone was playing a joke on her or not. The collaboration proposal turned out to be real and this is how the CD that you are listening to now came to life. They are two young and extremely valued musicians who show an overt maturity in their interpretation, but somehow they still find something new in the scores that so many others before them had performed. They both play with passion and exquisite refinement, which is exactly how it is supposed to be when it comes to the chosen scores; their interpretations represent everything that the world of classical music in the 21st century wants to express.
Monday, February the 11th, at 7 p.m. a first ever broadcast of the album released on 25 of January 2019 as part of the collection released by Deutsche Grammophon marking its 120th anniversary.
Cristina Comandașu
Translated by Alexandra Simona Ivan,
MTTLC, 1st year