Disk of 2017 > [Archived] Clasic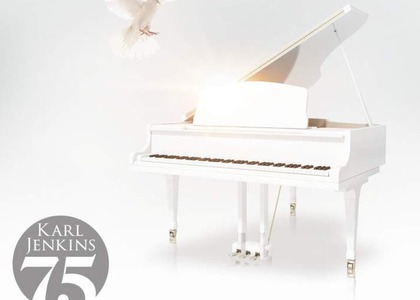 Karl Jenkins: Piano Album, CD review, 11 mai 2019
Monday, 27 May 2019 , ora 9.10

Sir Karl Jenkins, one of the most popular British composers, has celebrated his 75th birthday by launching, under the Decca record label, a new album of his most memorable piano themes, along with a few new titles. Karl Jenkins, I must mention, is the composer of Adiemus, known in dozens of versions, rendering him famous worldwide.
As a member of the Soft Machine music group in the 70's, he extended his area of interest towards film and film soundtracks, commercials, jazz, but also classical music, primarily choral and vocal symphonic. He composed a missa for peace - The Armed Men, the choral work The peace makers based on texts from Gandhi, Martin Luther King, Dalai Lama, Nelson Mandela, Mother Theresa, and from the Bible, The healer - a cantata for St. Luca, Palladio for string orchestra, an Ave verum composed for the baritone Bryn Terfel, Requiem and numerous other works of monumental renown. This is why his album is one of a kind, because it gives us the chance to discover Karl Jenkins's minimalist side, simple themes played on the piano, "where it all started". They are in fact reductions of his famous pieces of work conveyed without their rich orchestrations and harmonies of a grand orchestra or a great coral ensemble, in a melancholic note, stripped of any ornament, of any bombast.
What did Sir Karl Jenkins declare in an interview when this album was released? "When I composed these pieces, I thought of an orchestral approach, as this album "Piano" gave me the chance to go back to my roots and recreate them on the piano in a personal, intimate manner. It was a nostalgic yet pleasant experience to visit my old scores and turn them into something new. "
The Album "Karl Jenkins: Piano" was launched on 8 February 2019 under the Decca label. You will find it in the project Records of 2019.
Marina Nedelcu
Translated by Mălișcă Andrei Virgil,
2nd year , MTTLC, University of Bucharest