Disk of 2017 > [Archived] Clasic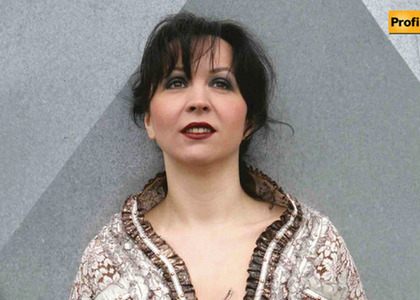 Pianist Luiza Borac – the album Mozart In Love – Music box, the 20th of May 2019
Monday, 3 June 2019 , ora 13.43

The debut of the brand new record of pianist Luiza Borac, whom we had the privilege of seeing on the 10th of May at the Radio Hall playing a marvellous piece written by George Enescu when he was only 16 - one movement of a concerto for piano and orchestra, the only part of the score that survived.
The album Mozart In Love was released worldwide on the 3rd of May under the Hansler label and it comprises three pieces written by Mozart (8 KV 613 variations, 12 KV 265 variations on the theme Ah, vous dirai-je, maman and Rondo KV 511) but also works inspired by Mozart, written by Liszt (Reminiscences de Don Juan), Bizet (transcription of Don Giovanni's serenade) and Chopin (The op. 2 Variations for Piano and Orchestra, on the theme of La ci darem la mano, by Mozart). There are new recordings as well, but there is also a recording from 2010, made by Luiza Borac at the Radio Hall with the National Radio Orchestra, led by Horia Andreescu.

Cristina Comandașu: A truly marvellous title for a new record - Mozart In Love. It is a very unusual title in the world of classical music - where did it come from?
Luiza Borac: Yes, that's true. It comes from some of my own experiences. The very first piano recital that I can fully remember was one in which I played Mozart; it was a memorable experience, at the age of 7, when I felt as if the music spoke to me. In between scales and etudes for children and preparatory music pieces, there was a moment when I played one of the pieces on this album, Rondo in A Minor by Mozart, and it was a moment of sheer joy, one I have tried to recreate in my later recitals, during school and Conservatory studies, and the rest of my career as a pianist.
And just like many musicians say, Mozart still poses one of the most difficult challenges of simply making the music speak… the utmost difficult thing is to be simple. I was impressed by this event that took place in 1787, the moment when the Don Giovanni opera debuted. Mozart met the brilliant librettist Lorenzo Da Ponte, they wrote three operas together - the clash of two geniuses ignited a flame that lives through the centuries. The moment the opera Don Giovanni debuted, this intricate and profound analysis of this love, of this feeling that drives and enriches the lives of us all, at the time, this opera was like an explosion, THE opera, it was extremely successful and it still is nowadays. But what is downright unique in music history, is that Don Giovanni influenced whole generations of composers who tried to reflect, paraphrase, to compose in the same spirit. And this record is dedicated to this love phenomenon in Don Giovanni.

Something that I can totally agree with: it's not easy to be simple in your way of interpreting, and Mozart is for me the most difficult to perform, precisely because of his simplicity. How did you get over the difficulties of playing Mozart? In my opinion, your Mozart lies between the classic image of him and the image of him that Milos Forman's movie portrayed - a playful, yet serious Mozart - in which I feel your youthful ingenuity, unchanged even now, as an adult. How did you transcend the idea that we must be simple? Because it's difficult.
Thank you for your compliment! A phrase that resonated deep within me was that of the pianist Edwin Fishcer. He used to say this to the pianists in his master classes who struggled with recreating the simplicity in Mozart's music, which was just as you said, highly complex and profound… Edwin Fischer would say "try holding a small, frail bird in your hand without crushing it, but still feel its pulse. Now you understand how you can achieve the Mozart touch." Mozart didn't live long. In his 36 years of life he composed an extraordinary amount of work. He was famous at an early age. He was… something more than a wonderkid… he was a phenomenon which, despite being covered quite a lot, his image is still shrouded in mystery. Due to being summoned, from a very fragile age, to dazzle the crowd at the royal court, to improvise upon request, his childhood was damaged - he had no childhood whatsoever - and when he started composing, I felt as if he tried to relive his childhood, just like you said, playful, full of imagination… In his numerous variation suites, each one including dozens of variations… his imagination was overflowing, boundless fantasy with the innocence of the childhood he could not enjoy recreated in his operas, and this inspired me greatly, drawing me closer to his work.

What made you choose Mozart after releasing a whole series of records, mostly of Romanian composers? Obviously, the Enescu and Lipatti records are memorable, at least in my opinion. Beyond this childhood memory of your first recital, which is also on this record.
Returning to my first love, but I have also been fascinated by the approaches of other composers, their takes on Don Giovanni, which are incredibly different.
George Bizet rearranged the whole opera for solo piano; it's a pretty straightforward transcription.
As for Frederic Chopin, his op.2 Variations on the theme "La ci darem la mano" is a piano concerto on a single theme from Don Giovanni. And what makes it spectacular is the fact that Chopin's debut on stage was with this reinterpretation of Don Giovanni, precisely this moment. It's his op. 2, which was discovered by Robert Schumann, who then wrote his famous article "Hats Off, Gentlemen, A Genius!". This was Frederic Chopin's ticket into the world of music, and with the backing of Robert Schumann, no less, which was very, very important. It's a full-fledged piano concerto inspired by a single theme from Don Giovanni, "La ci darem la manno".
On the other end of the spectrum we have Franz Liszt, who also creates something completely extraordinary when he captures the entire opera in just a few minutes. Franz Liszt makes his way through Don Giovanni, starting with the shocking entrance of the Commander, portrayed in a unique way - that's how he starts his paraphrase of Don Giovanni... Franz Liszt summarizes and reorganizes the opera's key moments in his own order. The dramatic moment, the finale, when the ghost of The Commander appears to judge Don Giovanni, is placed at the very beginning of the paraphrase. Then we have "La ci darem la mano", also with some tweaks, the whole dialogue with Zerlina. And what makes this an optimistic vision is Franz Liszt ending the piece with the famous Champagne Aria, which is the complete opposite of the harsh and dramatic ending of Don Giovanni. Liszt finishes with these notes, this beloved aria, the Champagne Aria, which is a happy moment for the audience. For pianists, "Reminiscences de Don Juan" is among the most difficult piano solo pieces ever written.

Besides these there are also three pieces by Mozart himself on this album. I already mentioned Rondo in A Minor, but there are also the even more renowned Variations on the "Ah, vous dirai-je maman" theme, but the piece opening the album, KV 613 , is rarely played.
Yes, that's true. There was a slightly frivolous context about this theme, "Ein weib ist das herrlichste ding" - A Woman is the Most Divine. Mozart turns these variations into... Yes, indeed, the theme, now that you mention it, he wasn't the one to write it, but one of his students, Benedikt Schack, a close friend of Mozart that is said to have been by his side when he was on his deathbed. He was the one with Constanze Mozart, worked on the scores, especially on the Requiem. He was also a renowned musician in his own right and even took part in the premiere of Don Giovanni. Mozart would often visit him and take a look at his scores, where he came across this theme that he became especially fond of, and he wrote these impressive variations. I'd like to mention that in the original recording there are two rondos, in D major and A minor, which are usually played together. We ran out of space on the record so we had to exclude it from the physical format, but it is available online.

We have new recordings on this album, but there is also a recording from the Radio Romania archive, a concert from October 2010 with The National Radio Orchestra and Horia Andreescu - I'm talking about Chopin's piece.
It's a live recording, a happy moment for all of us - both the soloist and the orchestra. Horia Andreescu leads this piece with vigour and extraordinary brilliance. What's left is this live version, this memory of an outstanding concert and I wanted to include it in this "Mozart In Love" project. I am here today with the National Radio Orchestra for the premiere of the George Enescu Concerto. It's a relationship of mutual appreciation, of love between all of us and I believe that this project from 2010, as well as the present one, are touching moments for me.

And how were the new recordings produced? The solo piano on this album.
The new recordings were actually an experiment. There is a huge new recording studio in Hanover, with the latest technology and equipment, an enormous space for recording, capable of hosting whole orchestras, choirs and so on. No piano recordings have been made there before. The Steinway Company gave us a Steinway piano and asked me to try out the acoustics. Unaware of the fact that this would turn into a production I tested it and it sounded very good and so we said we should try to make a recording. It turned out so well that the Profil Hansler label took it right away and we couldn't be happier that they were pleased with it.

The record has already got some good reviews. Can you tell us a little about that?
It was recently broadcast at Radio Bremen, two weeks ago actually, and it was well received. We have just received two beautiful reviews from Fanfare magazine in America. Both of them raved about all of the participants - the soloist, the orchestra, the recording studio. So, we are more than pleased that this experiment turned into something so beautiful.

How do you see yourself, both as a pianist and as a person, compared to Mozart?
Ooo, we're mere passers-by in his universe and we're glad for the chance to observe it. While making this record, I tried to get close to the Mozart phenomenon in my own way and it is truly unfathomable! His talent, the way he left his mark on history… to this day, composers take his example, just as they do with Johann Sebastian Bach. I can say that there are moments that put their mark on a pianist, the moments he gets closer to his music. I must quote Leonard Bernstein, who says that you can go to lots of concerts, listen to countless records, surround yourself with great music… but to him, all of that pales in comparison to the moment he sits down in front of his piano and plays some bars by Wolfgang Amadeus Mozart.

Is there an encoded message in this record for the listeners?
Encoded, no. I think I should mention that the beginning of this record has its origins in France. There was a pre-release, which was very emotional. It all happened at the Delie Theatre, a beautiful, historical place in Albi, the event was organized by the Albi Rotary Club and some Romanian dignitaries that are very dedicated to this project; Elena and Radu Cizmaru led this project with faultless perfection. The proceeds from this record go towards helping handicapped children who cannot attend school. Wishing to make the launch of this album as personal as possible, more than 300 children from these schools were invited to the theatre, where we had a discussion with them about Mozart. They immediately recognized "Ah, vous dirai-je maman", they applauded as if it were a rock concert, it was an extraordinary atmosphere. And regarding this piece, it is very interesting... it's a beloved piece, a French folk song from the 18th century that has no connection to Christmas whatsoever, but thanks to its popularity in Great Britain and Germany, it became, as you know, a Christmas carol. When I told them that in France they couldn't believe it. In Germany, this theme is always associated with Christmas, just as "twinkle, twinkle, little star" is in England... very interesting.

Do you believe that in the end, the goal of every artist, when creating a new record or anything that's supposed to reach the audience, is to communicate something to the listeners (that's why I mentioned the message thing)? I believe that none of us, take musicians for instance, do anything without thinking about the audience. What do we expect the people from the 21st century to think about Mozart's music? Or what should his music communicate to them?
I think that the message of Don Giovanni, which deals with love and affection, is the most direct bond between souls. I think that this message of love warms hearts and brings them together, no matter where they are, geographically or historically, and I believe that this is the strongest of messages. Mozart wrote about love, he understood it like none other, got close to this love phenomenon which understood, and passed it on through his music in a very emotional manner.
Quoting Colin Clarke from Fanfare Magazine, one of the most influential publications dedicated to music releases in the United States, Mozart In Love, the record by Luiza Borac is, I quote: "fabulous, the repertoire is beautifully picked, well produced, superbly and brilliantly performed".
In the end, all that's left for me to add is that no one should miss the experience of listening again and again to this Mozart record by Luiza Borac, who proved to be an awe inspiring interpreter of Mozart, as well as, for instance, of Enescu and Lipatti. We can feel Luiza's soul, which she poured into these recordings; I do believe that there's perfect harmony between the composer's personality and Luiza - the very same ingenuity, the same brilliance of otherworldly talent. Luiza's version of Mozart is playful, lively, yet at the same time mature, consistent, accentuated by technical and artistic means that come with the experience of a truly great pianist.
The album Mozart In Love is also available in Romania, in Humanitas bookstores.
Cristina Comandașu
Translated by Mălișcă Andrei Virgil,
2nd year, MTTLC, University of Bucharest