Disk of 2017 > [Archived] Clasic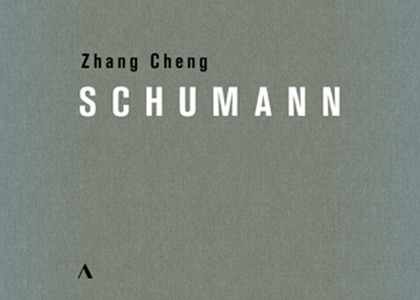 Pianist Zhang Cheng – CD Review, 12, October 19th 2019
Wednesday, 23 October 2019 , ora 15.07

Album released on June 21st 2019.
We should also pay attention to this "Schumann" album which was recorded by a young Chinese pianist, Zhang Cheng, who became known in the music world after he won several high-profile competitions - "Clara Haskil" in 2011 and "Robert Schumann" in 2016. It is only natural that an album of this nature should come out which has already been released by Accentus Music in Leipzig, on June 21st 2019. Last week we have already enjoyed his performance of Robert Schumann's Humoreske Op. 20. We will continue with the Abegg Variations, Op.1 which truly render the emotional nature of this up-and-coming virtuoso. We expect complete and utter focus, an impeccable technique, a sensitivity which suggests a refinement born from his ability of creating subtle nuances while still being powerfully romantic. You are able to feel the pianist's inner feelings, trembling before the music which he declares he loves so much.
Of course, some exceptional designs are still untouchable. Firstly, there is Clara Haskil, a flowing and sparkling spirit, separated from matter, then there is Sviatoslav Richter who is much more contemplative in these Abegg Variations - I am talking about the 1962 recording from a tour in Italy, or maybe, if we are to enter the same area, there is Lang Lang, brilliant, an impeccable virtuoso, but also a poet at the same time. But we are already talking about a whole new generation of pianists who, naturally, are trying to make their way in the competitive and demanding world of art.
The album actually contains a concert performed by Zhang Cheng during the Haute Clarée Festival in Névache, in south-eastern France. The pianist bears the historical name of a general during the period of the Three Kingdoms - third century AD. He began his studies in China after which he studied at Texas Christian University School of Music under Tamás Ungár, followed by the Berlin University of the Arts under Klaus Hellwig, and attenting the masterclass of other great pianists: Menahem Pressler, Leon Fleisher, Paul Badura-Skoda, Dmitri Bashkirov, Elisso Virsaladze. He says he is grateful for the fact that music was always a constant part of his life up until this moment.
After the first encounter with the Abegg Variations at the age of twelve, he later discovers Schumann during his studies in the U.S.A., completely spontaneous and entirely natural. Here is a quote from the interview which the pianist by Michel Mollard: "I have been trying for many year to find the proper words to describe this feeling of my reconnection with Schumann. I felt as if I have connected with my twin brother who up until that moment had lived in silence inside me. The feeling of intimacy, longing, empathy, and honesty utterly melted my heart. Instead of making an effort to study his music, Schumann welcomed me into his world with open arms."
This touching statement confirms a certainty which is present on the stage during concerts or at festivals. During recitals Zhang Cheng plays all three of Robert Schumann's Sonatas for piano. As for the Piano Sonata No. 1 in F-sharp minor, Op. 11, I can say that the performance is powerful, with Beethovenian influences, much like a blunt declaration. For example, the depth and maturity of vision of Murray Perahia is still lacking in Zhang Cheng's performance, but his effort is significant and worthy of appreciation.
In other words, we are meeting a young Chinese pianist who is fond of Robert Schumann's music. This is another quote from the interview which can be found in this album's booklet: "The reason behind my desire to explore his music is the humanity it gives off. I believe that Schumann had an incredibly free and generous personality. He is an endless source of inspiration for me while I am looking for my own identity."
You can find the "Zhang Cheng - Schumann" album within the Discs of 2019 Project at Radio Romania Muzical.
Marina Nedelcu
Translated by Dinu Alina-Maria, Universitatea București,
Facultatea de Limbi și Literaturi Strãine, MTTLC, An I