Disk of 2017 > [Archived] Clasic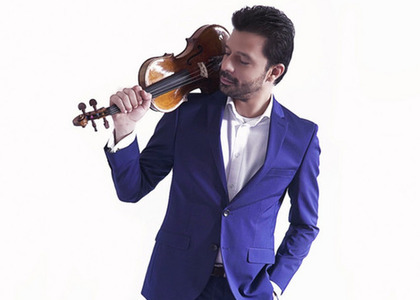 The violinist Răzvan Stoica - album 'Instinct' - Musical box, October 28, 2019
Thursday, 31 October 2019 , ora 15.42

Today, I propose to you to listen at first audition the newest album signed by violinist Răzvan Stoica, pianist Andreea Stoica and Kamerata Stradivarius: "Instict", the album which was released internationally on August 5, 2019, and released in Romania on October 5, within an organization of Radio Romania Musical ParkLake Shopping Center.
"Instinct" brings together an eclectic repertoire: 3 pieces by Astor Piazzolla, Rratevan and Andreea Stoica in a live recital in The Netherlands, Concert no. 1 for violins and orchestra by Max Bruch, with Răzvan Stoica and the Brahms Chamber Orchestra, and last but not least, Serenade for string orchestra of Edward Elgar, with Răzvan Stoica in the Stradivarius Chamber, that he himself established.
*
Andreea, the recordings with Piazzolla's works - the three of them - are made with you and are recordings from the concert; that's what I noticed. What was the concert about?
Andreea Stoica: Indeed, the three tangos of Piazzolla are sung with me and Kamerata Stradivarius. I think this is a concert we have held together in the Netherlands, in a church, in a very intimate atmosphere and because of this the sound is slightly different from other interpretations of ours.

You've been playing with your brother for so many years. How has the relationship between the two of you and now, more recently, evolved with Kamerata Stradivarius?
Andreea Stoica: Indeed, we have been singing since we knew each other. Many years have passed since then and our relationship is constantly changing, I would say, because we change over time and, obviously, the relationship between us is becoming closer, we can base one on the other in absolutely any conjuncture and this thing is also seen on the stage in the way we sing and understand each other.

What is the message you actually wanted to send with this new disc to your audience?
Răzvan Stoica: Let us not forget to listen to ourselves as people, not to forget to listen to ourselves as human beings, to listen to our heart. I know it sounds, I don't know, a little romantic, or maybe it sounds a little too sweet, but in an age where we live non-stop on the internet, on the phone, on the laptop, we also have to have our moments with us when we listen about our instinct and what our instinct tells us, not necessarily what an article on the internet or an article in the newspaper tells us ... and for us to listen.

Now, where can the Romanian public access these records?
Răzvan Stoica: They will be available on the website www.razvanstoica.com . Starting in November we will also have a page dedicated to the Romanian public, in Romanian. Also, on the website of the Stradivarius Camera you can physically buy the CD, but, of course, in all online stores - Spotify, I-Tunes, Amazon or Youtube - the disc is already available.
*
In the performance of violinist Răzvan Stoica and pianist Andreea Stoica, you listened to three songs by Astor Piazzolla, from the album Instinct, released in Romania on October 5: Escualo di tango, Vuelvo al sur and Oblivion.
The resistance piece of the album is, as expected, Concert no.1 for violin and orchestra by Max Bruch. It is the second concert ever recorded by violinist Răzvan Stoica, after the Spanish Symphony by Edouard Lalo, more than 7 years ago.
*

A disc with a very interesting name - Instinct. Why is it just Instinct?
Răzvan Stoica: We started from the instinct of the violinist, the modern violinist to perform well-known concerts from the violinist repertoire, such as Max Bruch's, but brought a little bit to the era in which we live, perhaps with a more complex interpretation and, at the same time, not forgetting the basics of violinism.
Why do you say "a more complex interpretation"?



Răzvan Stoica: More complex because, for example, Bruch wrote the first part of this concert as a prelude, the concert practically starting from the second part (so it is a slow concert), following the last, final part, to be the one full of fireworks and a little virtuosity, because it borrows a lot from Paganini - tenths, double thirds - and tries, in a way, to be a complete concert. Every time I listened, when I was very, very young and listened to the Brahms Concert and the Bruch Concert, I was always wrong in identifying them; because the third part of Bruch and Brahms are very similar to each other and this idea is felt ... that feeling of romantic German music ... and that's why I say complex.

What was your interpretive vision on this concert?
Răzvan Stoica: I tried to keep very much under control the first and second parts of the Bruch Concert because they have been interpreted over time in different ways; From the great violinist Jascha Haifetz to, I do not know, Kogan or violinists of the modern era, everyone has tried to bring their expressive input using the sometimes excessive vibrato for nowadays. And then, I tried to come a little with my calmer nature, I also tried to highlight the value of the violin - being a very good violin I sing - and to try to let the violin practically sound. Starting from the second part and leading us towards the end, of course, Bruch's character which is deeply romantic and at one point has moments of effective fire ... I let myself be swollen throughout the concert and ended the concert with a tempo a little faster than other records. And I also preferred this because the manuscript is prestisimo not presto and that's why I tried to bring it as original as possible and to respect the original score as much as possible.

But it didn't felt like you were in conflict with your personality?
Răzvan Stoica: Yes, that's why I find it complex. Because taking the tracks that are on this CD, namely Piazzolla, and going to Elgar, Bruch is somewhere in the middle. Of course, I have a deeply romantic personality - which is why I identify well with Bruch - but I tried to equalize it, in a way, during the concert.
*
Violinist Răzvan Stoica, Brahms Chamber Orchestra and the recording of Concert no. 1 op.26 in minor soil by Max Bruch - from the Instinct album released in Romania on October 5, 2019. After listening to Răzvan Stoica on this disc in the form of a duo, but also a concert soloist, here it is in another hypostasis he loves: the member of the Stradivarius Kamerata, an ensemble he founded in 2010. On this disc - Serenada op. 20 for string orchestra, created by Edward Elgar.
*

The repertoire on the disc we could say is somewhat inhomogeneous. If we look at the composers addressed, we have Piazzolla, we have Bruch and finally we have Elgar - very different personalities. Why did you stop at these works?
Răzvan Stoica: I wanted to complement this idea of ​​the complete musician in a way, trying to reach Elgar; Elgar being totally different from Bruch or Piazzolla. The Serenade work for string orchestra seemed to me to be emblematic of a string ensemble. Of course, there is still Dvorak, there are also works by Mahler for strings or Britten, but Elgar is more complete and leaves us, as violinists - because I tried to lead this work from the first violin - or as serious strings we can to play in a natural way, without relying too much on the other musician next to us; that is to say, we are not necessarily interested in what the other musician will do, as in the classical repertoire, but we can intuit and practically go together in confidence when we sing this song. And that's exactly what happened during rehearsals and even recordings. We have recorded several times and we have chosen the best option, precisely on the basis of intuition and understanding between us as musicians.

Leading an ensemble and being a soloist at the same time is really a challenge. How did you handle this challenge?
Răzvan Stoica: It's a challenge, but I relied heavily on the pleasure of the musicians I work with and the connection we all have. I've never seen myself as, I don't know, a chief among them or a leader trying to have some employees. No way! I think that when you interpret and when we are in Kamerata, we all have equal parts, we all discuss ways of interpretation and we try to listen to each other's opinion until we make a decision and I think that matters most. to have harmony as a whole and the repetitions we do, that moment should be a pleasure, not a job.

The recordings that were made especially for the record - Bruch and Elgar - when they were made?
Răzvan Stoica: They were made in March this year, at Mediatech Studios Hamburg, and it was a first time for us to work with one of the sound engineers from ...? Studios, the famous London studios, the one who did the mastering at the end of the CD.
*
On Radio Romania Musical you listened to the creation of Edward Elgar Serenade op. 20 in mi minor for the string orchestra, in the performance of Kamerata Stradivarius, ensemble led by violinist Răzvan Stoica, recording on the album Instinct, released in Romania on October 5, 2019.
Clearly, this album is about an extremely talented violinist and what it means today to be a violinist and look for the most diverse forms of expression in a highly competitive world. Instinct proposes an unusual repertoire for a single disc - a combination of chamber works, concertos and orchestras having a common denominator the passion of interpretation and the chameleon presence of this high caliber Romanian violinist: Răzvan Stoica.You can re-listen to this show anytime on the website of the discs of the year 2019 project, from romaniamuzical.ro.
Next week, I propose you a new album for the first time: Encores, with pianist Nelson Freire, released on October 18th.
I am Cristina Comandașu and thank you for your attention. Stay with Radio Romania Musical.

Translated by Gabriela Florea, Universitatea București,
Facultatea de Limbi și Literaturi Străine, MTTLC, An II