Disk of 2017 > [Archived] Clasic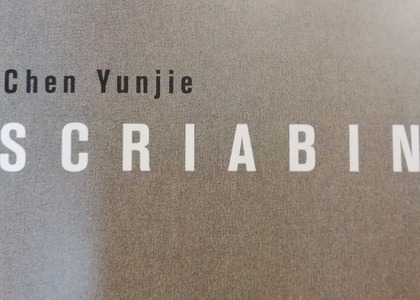 "Chen Yunjie – Scriabin" Album – CD review, November 2nd 2019
Wednesday, 6 November 2019 , ora 9.26

Chen Yunjie is a Chinese pianist who studied piano in the United States who says that Alexandr Scriabin's music fascinates him. He is one of the very few pianists who played during a recital all ten of the Russian composer's sonatas. This took place on April 27th, 2015, marking 100 years since Scriabin's death, and the recital was held in the concert hall in the Forbidden City in Beijing. We call your attention to an album released on June 21st 2019 by Accentus Music, Leipzig. Th album includes four of Scriabin's sonatas, No. 1, 5, 6, and 8, performed by Chen Yunjie at a concert in Lithuania in March 2019. It goes without saying that his live performance has the quality of a studio recorded rendition - it is perfect, the artist is very focused, and his passion for this world of music, eerie, raging, dreamlike, looking for it's own identity, is undeniable.
Chen Yunjie seems to be identifying himself with the soul of the music, performing it as if he were painting images just like Scriabin wrote on the sheet music of Sonata No. 6 "the dream takes shape" ("le rêve prend forme"). We will begin by listening the Piano Sonata No.1 in F minor, Op.6, keeping the traditional form, the piece of music was written at the age of 20, after Scriabin had wounded his right hand while studying. His future piano career was unsure at this moment but the artist was yet to be seen.
His most romantic sonatas, this F minor (the last part having the marking Funereal, utterly disturbing), "a sonata inked by a particular sadness that could only belong to Scriabin", says Chen Yunjie in an interview. "His music is not depressing, it is more sombre with an extraordinary feel of nostalgia and yet we are able to feel his soul, restlessly searching for the light. Scriabin is optimistic - melancholy but never depressed." This is the image that Chen Yunjie is trying to present us in Alexandr Scriabin's Sonata No. 1 in F minor.
Next in the scenario suggested by Chen Yunjie, who is currently teaching at the Central Conservatory of Music in Beijing, comes Sonata No.8, Op, 66 in one piece, His favourite Sonata, a difficult music when it comes to technique, hard to memorize. This Sonata begins with no less that six simultaneous voices, while Chen Yunjie remarks how fascinating the vocalization is in this case, each voice having a specific meaning. "Personally, this sonata seems to capture images, sensations, chimeras that come in my dreams or just as I wake up. The fascination and satisfaction that I feel while performing this Sonata are very hard to describe. For a second, I feel as if everything I have ever played is here."
Naturally, the pianist is not the only one. Vladimir Sofronitzky, Vladimir Askenazy, and Marc André Hamelin have also played this Sonata and they all have been admired for their interpretation and their suggestions of imagery is hard to compete with. But now we are talking about a new generation, and even more than that, we are talking about this amazing attraction that Asian artists seem to have towards the classical European repertoire.
Chen Yunjie won first place at the Piano International Competition in China in 1994 at only 12 years old. His extraordinary talent took him to the USA He graduated from three prestigious institutions - Manhattan School of Music, Juilliard School, and Cleveland Institute of Music. But he came back to China and he is now teaching new generations of pianists who we will later see perform in great competitions. In 2011 he became the youngest teacher in the history of the Beijing Conservatory. Of course he has a great concert career in Sydney, USA, Korea, and Europe. This new CD is only calling more attention to him from music lovers all around the world. His discourse is polished down to the smallest details, even though he is sometimes blamed for a uniformity of colours in performing this Sonatas which differ so much when it comes to structure and language. But the commitment which Chen Yunjie has in tackling this extremely difficult theme is evident.
The "Chen Yunjie - Scriabin" album, released on June 21st 2019, is part of the Accentus Music record label in Leipzig and France - China Academy partnership which began in 2018 having the goal of creating more cultural connections between Europe and China. This album is also part of the CDs of the year 2019 project at Radio România Muzical.
Marina Nedelcu
Translated by Dinu Alina-Maria, Universitatea București,
Facultatea de Limbi și Literaturi Străine, MTTLC, An I