Disk of 2017 > [Archived] Clasic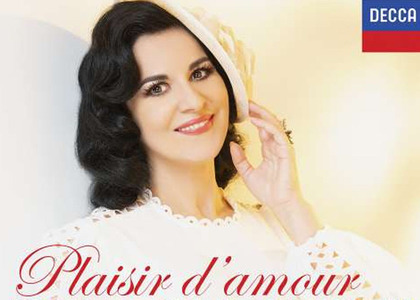 Angela Gheorghiu and Alexandra Dariescu - Plaisir d'amour
Wednesday, 20 November 2019 , ora 10.34

Monday, November 18th, from 7 pm, an extraordinary record in first audition at Radio România Muzical: Plaisir d'amour with soprano Angela Gheorghiu and pianist Alexandra Dariescu. The album was released by Decca Publishing on November 15th, when the two Romanian musicians performed it at Bozar in Brussels, during the Europalia festival which has Romania as a guest of honor this year.
It has been 25 years since Angela Gheorghiu appeared in the legendary performance of Giuseppe Verdi's Traviata, staged at Covent Garden in London, conducted by the late Sir Georg Solti: an unforgettable experience, for me, at least, a tragedy of reference for our times. Decca Publishing marks this anniversary with the release of this album on which Angela Gheorghiu interprets works she has never recorded before.
A very diverse album, with a beautiful and rarely encountered repertoire - and a passionate interpretation: two Romanian musicians we take pride in - Plaisir d 'amour with Angela Gheorghiu and Alexandra Dariescu. I talked to pianist Alexandra Dariescu about this album.

How did you get to work with Angela Gheorghiu?
We started two years ago, when we had a concert together in Vienna, at the Vienna Opera, and it was such a beautiful collaboration and we really enjoyed being together on stage, collaborating as friends. Then Angela had this initiative to record a new album. I understand that it's 25 years since her first record, also with Decca Publishing. She wanted to do a concert together, so we got to do the recordings last year in August and October. The record will be released on November 15th this year.

And yet, how did this meeting happen before the Vienna recital?
We met many times, we practiced a lot, it was a very beautiful chemistry between the two of us, we felt good and we started this beautiful collaboration.

She listened to you perform at first and then chose you?
That was about four years ago. I've just performed at Wigmore Hall and I remember being on the train to York, I had another concert the next day. I received a phone call, it was an unknown number and I was scared because it wasn't a good sign...when she said "Alexandra, I am Angela Gheorghiu.", I became extremely happy and I was honestly scared of losing signal and not being able to talk enough. But it went well and we talked a lot...it was like we were old friends and we just started talking again.

What are the challenges you faced when changing from a pianist-soloist to a pianist who accompanies a voice?
First of all, we have learned so much in the last two years since we started working together. The human voice is the most beautiful instrument, I would say, because it comes from the body, it is part of the human being and there isn't a more beautiful sound than that of the human voice. And for this reason, I talk differently now, I learned to breathe a lot more. The sound, of course, has to set the voice like a soft pillow. I learn a lot from Angela. It's a great example of living on the stage. All emotions are amplified thousands of times and the way in which they are expressed in a concert is completely different. It's amazing!

I really liked, while listening to your recordings and your conception as an accompanist of the songs, whether they were lieds or arias, that you are a commentator, maybe more than an accompanist, a voice commentator. Did you create your discourse that way?
Yes, I didn't treat each piece, when I studied it alone and then with Angela, as an accompaniment; it is, in fact, a piece that I approach with the utmost seriousness. I think a lot about the way sentences flow, what the song means...I talked a lot with Angela about words and, of course, she uses many languages in her songs. It is important to know what the song says and to really experience that state, but not as an accompanist. Probably it's the meticulousness that I have as a concert pianist, it gets very much transposed in the role of accompanist.

I perceive both of you as two very strong personalities and I find it very beautiful how you succeeded, even though you are two very strong individuals, how you managed to make this duo together. Was it difficult for you or did it just go naturally?
No, it was very natural and very nice. The concert in Vienna, I know, was during a very busy period for me. I had just been to Canada and came directly to Vienna two days prior and went straight to rehearsals; I landed at 11 and at 1.30 pm I had rehearsals. We rehearsed a lot together then, but Angela has a way of transmitting this state of mind. She has a very beautiful innocence and a way of expressing herself that I would call, in the best sense of the word, childish, but that makes you love her very much. She showed me a lot of generosity and was really eager to work and sing together. Keep in mind that when we went on stage together, she took me by the arm and, indeed, it felt like a special occasion. This mood was transmitted to the public very well...we had, I don't remember, four or five encores and the public gave us a standing ovation, the room was completely full at Staatsoper in Vienna and they would not let us leave. It was so beautiful, a very new concept! I also sang with a mezzo-soprano at the Conservatory, Kathryn Rudge, who was also on BBC New Generation and has an extraordinarily beautiful career. We lived together in the dormitory, at the Conservatory, and she was the only one with whom I collaborated with voice and piano. And now, with Angela, of course, it's a whole new world. It's very bright and wonderful.

A very interesting repertoire selection, Plaisir d'amour, inspired by a song by Jean Paul Martini, a very little known composer (this piece is his emblem, so to speak), 23 very diverse works, you said, in special languages. Let's talk a bit about the repertoire on this record.
The repertoire is a very large one. We recorded more songs during the session, but these ones got selected. They are, in fact, so very beautiful, especially the Romanian songs. Probably the two of us, being Romanian, were really eager to sing them and I think you can feel how much we enjoyed recording. I know that there will be some videos that will be posted before the release of this record, on November 15th, but...it's an infectious joy, which is transmitted through the microphone, and through the camera and everything, you can feel it. The selection of songs is great, it's pretty long, but I think the audience will enjoy it.

Plaisir d'amour- it means that the theme is love, right? Is the theme what binds these 23 pieces, or are there other things that mattered when choosing the respective pieces?
Yes, it is very true, this is the common theme and I am very glad that we also have French songs...For example, for me, it was great to record Debussy. It creates such a beautiful, velvety atmosphere that when Angela starts singing there's a wholeness, which makes you want to understand the world. It's a wonderful selection and I'm glad we have a lot of concerts together where, as in Vienna, we will combine songs together, and a few times I will perform alone, and every solo work I play is a kind of binder between what was performed and what will be performed together with Angela.

So, the release of the album is scheduled for November 15th, on the date when you perform at the Europalia Festival in Brussels. What comes next?
We'll go to London, at the Barbican, on December 10th, in January 2020 we'll go to the Berlin Opera, and in April we'll tour in America. And the selection of songs will generally be the same, many tracks from the record. We are very happy that we will travel together and it will be an adventure indeed.

You said the recordings were done last year. Where exactly?
At Sample School, which is a private school and has an extraordinary room with perfect acoustics. The Decca team brought the piano that I chose from Steinway and we spent a few wonderful days, we felt amazing, comfortable and had enough time to drink a cup of tea, but...yes, it was really nice.

How many days did the recordings take?
I think there were ten days in total, with all the rehearsals and re-listening.

What do you appreciate most about Angela Gheorghiu from a professional and human point of view?
Probably her lust for life and her passion for singing. You can feel the greatest joy when she comes on stage. And, as you know, after so many years of talking and being together in this wonderful journey, I always say that I am extremely glad that I can perform on stage. And it is probably this joy that united us and made us work together and bring the joy of music to each listener.

Is there a certain track that you particularly recommend on this record?
All of them! Rachmaninoff's pieces are extraordinary, the Romanian and the French pieces...all of them, absolutely! It is an extraordinary record, which I know will bring great joy to everyone who will listen to it. And, of course, it's the best gift before Christmas!
Cristina Comandașu
Translated by Alina-Nicoleta Duminică, Universitatea București,
Facultatea de Limbi și Literaturi Străine, MTTLC, anul II