Disk of 2017 > [Archived] Clasic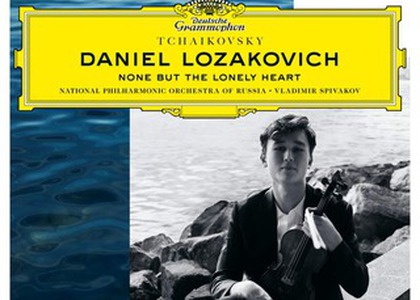 Violinist Daniel Lozakovich – Album None but the Lonely Heart
Friday, 29 November 2019 , ora 11.56

None but the Lonely Heart - a CD by the 18-year-old Swedish violinist Daniel Lozakovich, which includes Chamber and Concert works composed by Pyotr Ilych Tchaikovsky. The album was released by Deutsche Grammaphon, on the 18th of October. The album consists mostly of live recordings from the concert, which took place in Moscow, on the 30th of April, 2019, performed by Daniel Lozakovich and the National Philharmonic Orchestra of Russia, conducted by Vladimir Spivakov. It's a really magnificent live, and you'll agree with me, after listening to Concerto for Viola and Orchestra in D Major, Op. 35, by Pyotr Ilych Tchaikovsky. The interpretation is well-balanced, with a great care for each sound, even in the quite fast tempi. It's a version, which matches Russian spirit, performed by this 18-year-old violinist, who made his solo debut with the help of Vladimir Spivakov 11 years ago.
Daniel Lozakovich was born in Sweden. His father is from Belarus, and mother from Kyrgyzstan. Daniel started playing the violin at the age of six, and at the age of eight he already had his first concert, conducted by Vladimir Spivakov, who had noted the extraordinary talent of the little violinist. He's won numerous awards, but besides this, he's performed with great orchestras and important conductors. Alongside Spivakov, he was promoted by Valery Gergiev and Andris Nelsons. At 15, he signed an exclusive contract with the Deutsche Grammaphon. His first CD was released in 2018, containing works by Johann Sebastian Bach. After interpreting the works of the quintessentially intellectual composer - Bach - Lozakovich is now interpreting those of the quintessentially emotional composer - Tchaikovsky. There are three morceaux on the album, with pianist Stanislav Soloviev: None but the Lonely Heart Op. 6, No. 6, which is also the title of the album, Melody from Memory of a Dear Place, and Valse Sentimentale Op. 51, no. 6.
Along with Concerto for Violin and Orchestra Op. 35 by Tchaikovsky, we also find other works for violin and orchestra by the Russian romantic, on this album: Meditation from Memory of a Dear Place, Valse-Scherzo Op. 34, and a transcription of Lenski's aria from Eugene Onegin Opera.
Daniel Lozakovich - "more than a child prodigy" - as called in the international press is more than a talented violinist, who surprises with his mature interpretation, the delicacy of the discourse, and the courage to have a personal voice in scores which had been played many times before himself. Some are innovating by proposing controversial interpretations, which break all the rules, and others - as Lozakovich - are faithfully following the line of the score, remaining loyal to the style and intention of the composer. At the same time, the pressure to which the young interprets are exposed today is understandable: "What more could you say in the Concerto for Violin and Orchestra by Tchaikovsky, for example?". There are so many recordings done before you. However, the quality of interpretation is what makes a difference. Everything falls perfectly into place in Lozakovich's interpretation, which convinces not just through technique, but also and especially through emotion. There is no redundancy of any nature, especially the romantic one, which can be often encountered at young musicians in their Tchaikovsky's interpretations. Lozakovich peers right into Tchaikovsky's soul, the composer riddled with a painful interior conflict.
Cristina Comandașu
Translated by Cotar Alexandr, Universitatea București,
Facultatea de Limbi și Literaturi Străine MTTLC, anul I