Disk of 2017 > [Archived] Clasic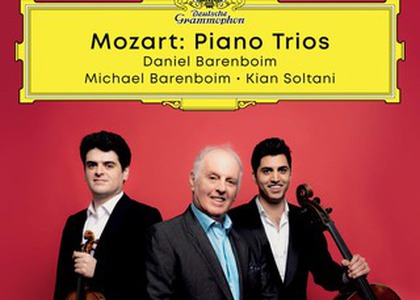 Mozart-Piano trios- Daniel Barenboim, Michael Barenboim, Kian Soltani, A CD review, the 23rd of November 2019
Friday, 29 November 2019 , ora 12.02

Piano Trios by Wolfgang Amadeus Mozart comes again as a family album, with pieces chosen by Daniel and Michael Barenboim along with the Iranian cellist, Kian Soltani- it is a Deutsche Grammophone product and will be available starting from September 13th 2019.
Mozart embodies the musician whom Daniel Barenboim, pianist and conductor, spent his whole career studying and proves it by having an impressive number of albums under his belt, both as a pianist and conductor including Piano and Orchestral Concerts, Symphonies, Sonnets, Quartets and these Piano Trios. He actually stated in an interview that he would have wanted to travel back in time just so that he could spend twenty-four hours in the company of Mozart- "because he is the only composer who combined rigor, ingenuity and lightheartedness. It's about the benefic combination of depth and ease.
Therefore, we have Mozart again in a double album along with another success for the Israeli pianist who chooses this repertoire for the second time. There is a first version of itfrom 2006, along with the violinist Nikolai Znaider and with cellist Kyril Zlotnikov that gave the impression, according to critics, of a somewhat competition between piano and violin solos. This does not appear in this version. Here, we have a good communication between father and son, an ideal musical dialogue, accompanied bythe Iranian cellist who completes the piece. Here, Daniel Barenboim channels a miniature model for the West Eastern Divan Orchestra, an ensemble created to encourage the cohabitation of Israeli and Palestinian artists as well as other nationalities.
In more than 150 minutes, we discover a whole universe composed by the Divertimento in B-flat major, K.254 and Piano Trio in G major, K.564- of course the selection is imposed by the recording space, the pieces being recorded in "Pierre Boulez" Saal in Berlin that creates this extraordinary sound clarity that these pieces have. The musical discourse bends with that specific elegance followed by grace and brightness that we expect in Mozart's music-that invisible thread that embroiders finesse, maintained even in parts that exude a sharp rhetoric, with a certain lost valor that can no longer be found now.
The vast background of pianist Daniel Barenboim truly shines, beyond his touch of immaterial transparency and a diluted poetry. Every lyric is highlighted with the finest details, through a certain flow or turning point, but never straying from the style. It exudes the joy of doing it, this specifictype of music, that flows and forms a perfect interpretative symbiosis, whether we talk about the piano-violin dialogue or the three voices that intertwine with such rawness to transform the Mozartian text in a truly valuable experience.
"It is everything that Mozart should be", claim the ones who wrote about this subject, "from that contagious spontaneity to bonhomie" (BBC Music Magazine), while Rolando Villason, artistic director of "Mozartwoche" Festival in Salzburg adds to the album's presentation: " their approach is a delicious combination of craftmanship and innocence, this music belongs to Mozart, they have respectfully stolen it and now it is theirs."
At 76 years old, Daniel Barenboim still holds the same exuberance and interpretative dexterity that, as it can be easily observed, are passed on to his son, violinist Michael Barenboim, as of now a respected musician in and of himself, already performing concerts as a soloist of the most illustrious European and American orchestras. He is a concertmaster of the West Eastern Divan Orchestra, a founder of Erlenbusch Quartet and has extensive chamber-music activities along his mother, Elena Baschirova, by Martha Argerich, Andras Schiff and many others. It is a privileged artist, of course, having such an amazing background, but who managed to make a name for himself and bring admiration. In this sense, he accompanies his esteemed father in order to create the perfect Mozartian sound, the perfect lyrics and atmosphere. Therefore, we can say that the well-kept secrets of this art are successfully passed on to the next generation.
We include this album at the top of our list in the project "Discurile Anului" ("Records of the Year") 2019.
Marina Nedelcu
Translated by Maria Magdalena Costea, Universitatea București,
Facultatea de Limbi și Literaturi Străine MTTLC, anul I