Disk of 2017 > [Archived] Clasic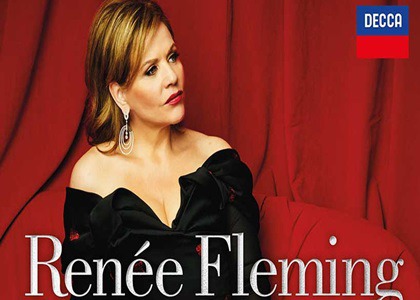 Renée Fleming's album `Lieder` - CD Review, 30 November, 2019
Tuesday, 3 December 2019 , ora 15.09

Everyone who admires Renée Fleming, the soprano, will enjoy listening to her last lieder album, released under Decca`s trademark on 14th June, 2019. In this material you will find pieces of three composers, recorded in two distinct periods - Johannes Brahms` selected lieder and the cycle `Woman`s Love and Life` by Robert Schumann, in which Renée Fleming is accompanied by the pianist Hartmut Höll, dates back to 2017, and the lieder cycle op. 44 on Friedrich Rückert`s lyrics for voice and Gustav Mahler`s orchestra was accomplished in 2010 by virtue of the Munich Philharmonic Orchestra, conducted by Christian Thielemann.
A soprano with such a distinct vocal presence, now being in her early sixties, still remains an emblematic figure for all opera lovers, who surely, with each new discographic release of the artist keep in their memory or in the subconscious the unforgettable Mozartian roles, Mnon, Rusalka, and all other important roles in the works of Richard Strauss or Händel - just to name a few climatic points of an extraordinary career. This time we shall listen to Renée Fleming singing lieder, carrying a great legacy in her artistic DNA, and we cannot overlook the magnitude of this opera singer, which infuse this grandeur even in some apparently mundane lieder. She is actually criticised on this matter, without them having any clue that maybe this mighty modus vivendi pervades everything, dominates through its utmost sensibility, effusion and dramatism every musical fiber or nuance of even a simple Wiegenlied by Johannes Brahms.
As time is short, I suggest listening to a few selections written by all these German composers included in this lieder album - a chapter resumed by the American soprano after twenty years, perhaps adding a touch of nostalgia with her tremendously nuanced and beautifully pitched voice in a few stray Johannes Strauss lieder, in Schumann - `Woman's Love and Life`, a portrait we remember through its exuberant parts and, in my opinion, the climax of this album- in the lieder for voice and orchestra by Gustav Mahler, on lyrics by Friedrich Rückert. Right here, the soprano Renée Fleming`s voice capacities seem to be most highlighted, in this luxurious orchestral scenario, matching her majesty and character. We discover here the profound emotion, the inner warmth, and above all, sonorities showing a refined conduct in ample and nuanced phrasing. Only the length of these opuses is striking - because you instantly forget, in this pleasant ambiance, that you are listening to a lieder cycle.
You will find this album too in the project `Discs of the Year 2019` at Radio România Muzical.
Marina Nedelcu
Translated by Ecaterina Bușe, Universitatea București,
Facultatea de Limbi și Literaturi Strãine MTTLC, anul I