Disk of 2017 > [Archived] Clasic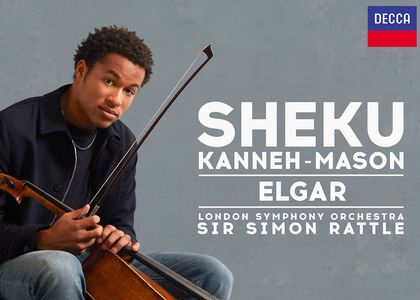 The cellist Sheku Kanneh Mason and the London Symphony Orchestra, conductor Sir Simon Rattle - Music Box, 13th January, 2020
Monday, 20 January 2020 , ora 10.53

Album released on the 10th of January, 2020
A CD with recordings signed by the British cellist Sheku Kanneh Mason, 2018's discographic revelation in England; Decca Records prepared this album -which was released on 10th January 2020- where we find Edward Elgar's Concerto for Cello and Orchestra, along with pieces for cello and short pieces for chamber ensembles, written in the same period as Elgar's opus.
Sheku Kanneh Mason's first album for Decca Records came out in January 2018 and it was a thrill for the British record market. The centerpiece of this second album is Concerto op. 85 by Edward Elgar- today, one piece de resistance for the concertante repertoire for cello, composed in 1919. By means of his rendition Sheku wanted to mark 100 years since this work of great importance for cellists was composed. Nowadays it seems strange if when we think that this concerto has been hidden in drawers for over 40 years - only after Jacqueline Du Pre started singing it, Elgar's concerto gained popularity, and Sheku Kanneh Mason has enjoyed it. wanted to mark this record and his reverence in front of one of his favorite cellists, the extraordinary Jacqueline Du Pre.
Through this record he also wanted to show consideration to one of his favourite cellists, the extraordinary Jaqueline Du Pre.
Decca offered the best conditions for recording of this concerto: the famous Abbey Road studios, the wonderful London Symphony Orchestra, conducted by Simon Rattle. Sheku Kanneh Mason`s version is particularly sensitive; though more experience and force would have been required from him; but perhaps we expect too much for a 20-year-old musician, who is still a student at the Royal Academy of Music in London.
This disc also contains a series of miniatures composed approximately in the same period as Elger`s opus - most of them transcribed by Simon Parkin specifically for this production. Elgar composed his concerto for cello and orchestra in 1919, in the oppressive atmosphere that followed the First World War - and the chamber works on this record maintain the same hallmark, being not necessarily tragic, elegiac. There are opuses that we rarely have the chance to listen, most of them - from Edward Elgar's Romance, to Ernest Bloch's Prelude.
In 2016, Sheku Kanneh Mason is the musician who won the distinction of BBC Young Musician of the year, the first black performer to achieve this performance in the last 40 years. But above all, he is the cellist who gained global notoriety in 2018, when he played at the wedding of Prince Harry of Great Britain with Meghan Markle. By the end of 2019, he was also a member of the Order of Great Britain for music services. For a 20-year-old, these are highly important achievements that burden him with a lot of expectations - obviously, he is very talented and comes from a family with many gifted members: he has 6 other musician brothers. He is also accompanied by his brother, the violinist Braimah Kanneh Mason, on this record.
But the type of repertoire he chose for this album requires more maturity, life and artistic experience - the talent is not enough here because the repertoire is too deep and maybe with a hint of tragedy that Sheku cannot understand yet. It is an interesting project: the music of Elgar and his contemporaries - around the First World War period, but I am convinced that over 20 years, he will perceive this works differently.
Cristina Comandașu
Translated by Ecaterina Bușe, Universitatea București,
Facultatea de Limbi și Literaturi Străine, MTTLC, anul I