Disk of 2017 > [Archived] Clasic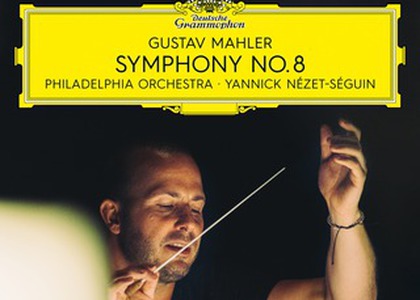 Conductor Yannick Nézet-Séguin and the Philadelphia Orchestra - Music Box, 20th of January, 2020
Monday, 27 January 2020 , ora 10.19

Symphony No. 8 by Gustav Mahler is the CD that has been released recently, on the 17th of January 2020, recorded under the baton of Yannick Nézet-Séguin, one of the most essential and valuable contemporary conductors. He is the musical director of the Philadelphia Orchestra, and also, of the New York Metropolitan Opera House. Besides, the recordings from this disk were made too at the rostrum of the Philadelphia Orchestra, alongside the American Boy Choir, the Choral Arts Society of Washington, and the Westminster Symphonic Choir.
The CD is a recording from a concert which took place on the 13th of March, 2016, and marked the 100th anniversary of the US premiere of the Symphony No. 8 by Mahler, also known as the Symphony of a Thousand. At the US premiere from 1916, Leopold Stokowski conducted the same Philadelphia Symphony Orchestra. The total number of musicians on stage did draw near a thousand. There were more than four hundred musicians on the stage of Verizon Hall from Philadelphia in 2016, who played and sung one of the most flamboyant vocal-symphonic scores that have ever been written. This Symphony No. 8 by Mahler is composed of two parts - the first one, built on the text of Veni Creator Spiritus chant, and the second one that recreates the end of Goethe's Faust. The Symphony is a musical meditation upon the meanings of life and death.
The soloists of the Symphony No. 8 were sopranos Angela Meade and Erin Wall, contraltos Elizabeth Bishop and Mihoko Fujimura, bass John Relyea, bass-baritone Markus Werba, and tenor Anthony Dean Griffey.
Symphony No. 8 by Mahler had aroused enormous enthusiasm, as you will take notice by the applause and cheers heard at the end of the recording. It's a score with an impressive construction and a soul-uplifting message, that is rarely played. Then, there is also the effect of the live audition - a chronicler noted that, in fact, the concert was a test of how much sound could hold the Verizon Hall of Philadelphia.
The credit taken for the ultimate success is conductor's and his orchestra's. In my opinion, the orchestral moments are the most beautiful, especially the prelude to the second part. The feeble part belongs to the soloists, because most of the time, the score seems to be too difficult, having a too demanding structure for their vocal possibilities. Their timbre is sometimes disturbing, because of the too elaborate perception of the vibrato.
Nevertheless, the overall effect is spectacular, and anyway, hardly ever we have the chance to listen to Mahler's Symphony No. 8 - the afterlife universe imagined by Mahler.
Cristina Comandaºu
Translated by Cotar Alexandr, Universitatea Bucureºti,
Facultatea de Limbi ºi Literaturi Strãine Anul I – MTTLC