Disk of 2017 > [Archived] Clasic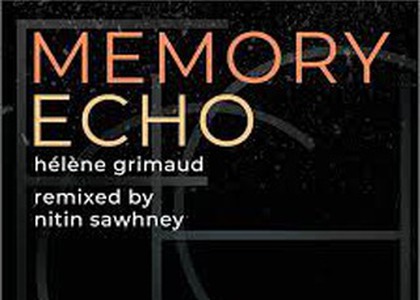 The Hélene Grimaud - Memory Echo Album - remixed by Nitin Sawhney - CD Review, January 25th, 2020
Wednesday, 5 February 2020 , ora 9.14

It's a continuation on the theme of the 2018 "Memory" album - this miniature material signed by Hélène Grimaud - "Memory Echo" released on October 25th, 2019 at the Deutsche Grammophon record house. It starts with the first Gnossienne by Erik Satie and surprises. Beyond the first sounds of the piano, an orchestra appears in the background, suggesting an ison (orchestra played by the synthesizer). It is, in fact, the project of an artist without boundaries - Nitin Sawhney, British of Indian origin known for the versatility (in a positive sense) with which he interacts with the most diverse musical environments - from Paul McCartney and Sting, to the London Symphony Orchestra, "Cirque du soleil"from Monte Carlo, Anouska Shankar, with rock guitarists, world music artists, actors, choreographers, political characters, film producers. Nitin Sawhney has six doctorates, is multi-instrumentalist, composes music for films, television, ballet, theater, is festival director, actor, writer, director, radio producer.
But I return to music and remember no less than 10 author albums that Nitin Sawhney released in his career, he was also the producer of the album "Water" released by Hélène Grimaud in 2016. So the two artists are collaborating again and propose a material that combines some miniature and minimalist works signed by Nitin Sawhney, interspersed with the already mentioned Gnossienne no.1 by Erik Satie, with "Clar de lune" by Claude Debusssy and Vocalise op.34 no. 14 by Sergei Rahmaninov combined in the arrangements of Nitin Sawhney with electronic effects, all to evoke old memories. They can be suggested by children's voices, nature noises, brief incantations.
As can be expected in the case of this multivalent artist, the boundaries between themusic types fade, as the memory involuntarily combines broken bits of life, making the barriers of time disappear. According to pianist Hélène Grimaud, "the music selected helps create an atmosphere of fragile reflection, the mirage of what once was, or what could have been." It is certain that the pianist seems to want to escape from the eminently classical style that consecrated her. And all these sound experiences, extremely interesting, do nothing but refresh the unique image that Hélène Grimaud has already offered us, beyond the international concert stages, surrounded by wolves, or pleading for the salvation of the most precious elementof the planet - water.
Marina Nedelcu
Translated by Ioana Drangoi, Universitatea București,
Facultatea de Limbi și Literaturi Strãine, MTTLC, anul I