Disk of 2017 > [Archived] Clasic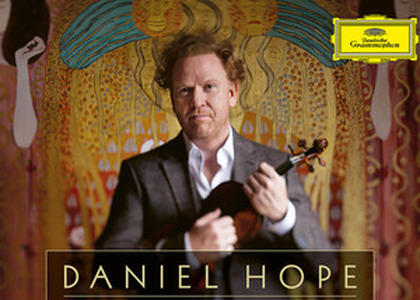 Violinist Daniel Hope - selections from the 'Belle epoque' album - Music box, January 17th, 2020
Thursday, 27 February 2020 , ora 9.55

The album released on February 14th at the Deutsche Grammophon house, with violinist Daniel Hope in the foreground is titled Belle epoque. Here is an interesting new topic on which Daniel Hope stops, who we know as one of the most inventive musicians in terms of his records. Belle epoque is, as we know, the period in the history of Europe between 1871 and 1914, that is, between the Franco-Prussian war and the beginning of World War I - a period of peace and development for Western Europe, in which the arts flourished and new trends and styles appeared in art and music.
And Daniel Hope makes a very interesting repertoire selection to illustrate the music of that period, an itinerary with well known works alternated with some rarely sung. In total, on two records, two and a half hours of music - today we will listen to a selection of these songs.
And we will start with George Enescu, composer of the concerted Impromptu for violin and piano on this record. A work composed in 1903, the same year that Enescu composed his Suite I for orchestra. A work impregnated with romanticism and the French spirit of the late nineteenth century - Enescu had graduated from the Paris Conservatory just 4 years earlier, in 1899.
It should be noted that Daniel Hope does not approach the works of George Enescu for the first time now. In 2016, he included the Union dance by Enescu on his album, Tribute to Yehudi Menuhin, and in an interview he gave me at the time, he said that he was already working on interpreting the concerted Impromptu by George Enescu and that Sonata III for piano and violin in Romanian folk character by Enescu is one of his favorite works.
On the Belle epoque album - the first disc contains works recorded by Hope along with the Zurich Chamber Orchestra, which he has been conducting since 2016, and on the second, recorded works by pianist Simon Crawford Philipps. Chausson, Debussy, Massenet, Richard Strauss, Schonberg, Elgar, Rahmaninov, Zemlinsky, Koechlin, Faure, Ravel, Berg, Bridge, Kreisler, Hahn, Webern - illustrative names for the music world from the 19th and 20th centuries, a wide repertoire palette, perhaps even too wide, as some British journalists have commented.
In 1897, young Maurice Ravel, then 22, was re-enrolled at the Conservatoire in Paris, after initially having given up piano lessons. However, he was now a composition student under the guidance of Gabriel Faure, and his colleague was George Enescu. Also in 1897, Maurice Ravel wrote his first chamber work for violin and piano, a sonata that remained in one part, known as Sonata no. 1, however, published posthumously. An eminently romantic language in this work, which is related in style to George Enescu's work.
The greatest work on this album is the Concert op. 21 for violin, piano and string by Ernest Chausson - for string quartet in the original, here, with string orchestra. A work that was written between 1889 and 1891 - Chausson, a great talent, perished at the age of 44 in 1899, just as he was beginning to enjoy the well-deserved success as a composer. His most famous work remains Poem op. 25 for violin and orchestra. Daniel Hope's romantic and advanced interpretive style fits very well with the Concert op. 21, and I reckon the revelation is French pianist Lise de la Salle, with a speech perfectly adapted to this lush work that illustrates the Belle Epoque spirit so beautifully.
Cristina Comandașu
Translated by Drangoi Ioana – Alexandra, Universitatea București,
Facultatea de Limbi și Literaturi Străine, MTTLC, anul I