Disk of 2017 > [Archived] Clasic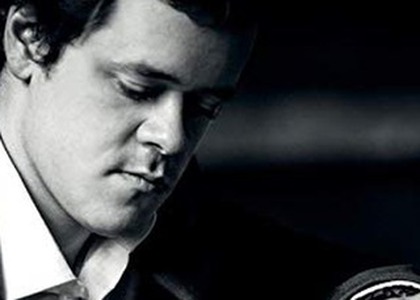 The Pianist Benjamin Grosvenor and the two Chopin Concerts - Music box, 24 February
Monday, 2 March 2020 , ora 11.27

The two concerts for piano and orchestra by Frederic Chopin, on an album released on February 21, 2020, at the Decca British House . In the foreground, the British pianist Benjamin Grosvenor and the Royal Scottish National Orchestra led by Hong Kong-born conductor Elim Chan.
It is the second concert album signed by the pianist Benjamin Grosvenor, who, at 27, is considered one of the most important and gifted pianists not only in his country, but also worldwide. In 2011, Grosvenor signed an exclusive contract with Decca House - he was 19 then, becoming the youngest pianist to ever collaborate with Decca,and the first British pianist to work with this house in the last 60 years. In January 2013, the name of Benjamin Grosvenor appeared on an album with concert works, Rhapsody in blue, recorded with the Liverpool Royal Philharmonic Orchestra. In total, Benjamin Grosvenor's discography includes today 5 albums released in 8 years.
I find the last one a surprising choice for Benjamin Grosvenor, known for his more masculine repertoire selections, consisting of difficult and generally less known works. Now, along with a Hong Kong conductor and a Scottish orchestra, he is exploring an arch-known repertoire with a deeply-Romantic tinge, I would say, rather feminine tinge, in the two piano and orchestra concerts.
And Benjamin Grosvenor's vision is, as expected, different.
I would say, we have a different kind of Chopin in the interpretation of Benjamin Grosvenor, strippedof any trace of sentimentality and romance - very rough, perhaps, too devoid of emotion. The piano shades are very beautiful, obviously, the pianist is extremely talented. But that Slavic, Polish touch, which is specific to Chopin's music, is missing - he tips the balance between sensitivity and exultation only on the jubilation side, which is very tiresome, especially in the orchestra's discourse, which often puts too much emphasis on the score and, in general, I would say, sounds too frantic.
It is an opportunity to discover the 33-year-old conductor Elim Chan, born in British Hong Kong, who did studies in the United States, first in Psychology, then in music. Elim Chan is currently the Chief Conductor of the Antwerp Symphony Orchestra and the chief guest conductor of the Scottish National Royal Orchestra, whose history dates back to 1891.
The new album can be listened to on Radio Romania Musical Channel on Monday, 24 February, from 7pm.
Cristina Comandașu
Translated by Elena-Carmen Bobocescu, Universitatea București,
Facultatea de Limbi și Literaturi Străine, MTTLC, anul I