Disk of 2017 > [Archived] Clasic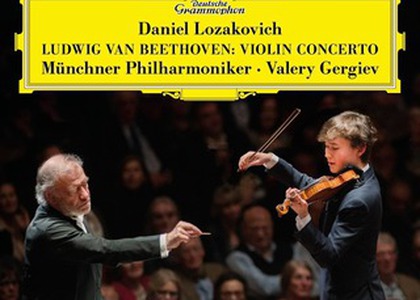 Violinist Daniel Lozakovich and the Munich Philharmonic, conductor – Valery Gergiev – Music Box, October 5th 2020
Wednesday, 7 October 2020 , ora 14.17

The album released on September 25th, at Deutsche Grammophon, was dedicated to Beethoven's 250th anniversary. There was a guideline designed for Beethoven's anniversary from the record label, which included recordings made by young performers. And for this very CD, the label chose a 19 years-old violinist, Swedishman Daniel Lozakovich, regarded as one of the grand revelations of the contemporary art of violin playing.
In a concert from December 16th 2019, Daniel Lozakovich performed Beethoven's Violin Concerto together with Munich Philharmonic, conducted by Valery Gergiev. This recording is now available on the CD which you will be able to listen to today, after it was first streamed as a video recording on social networks during the first wave of the 2020 pandemic.
Certainly, it's already a great achievement to be invitedby Valery Gergiev, at just 18 years old,to play Beethoven's Piano Concerto, and share the stage with him. In fact, they've had a close collaboration during the last five years, playing together this famous concert several times, which is a milestone for any concert violinist. "If you haven't heard of Lozakovich yet, you will certainly do in the future," Gergiev prophesized after conducting a concert with Lozakovich as soloist.
What makes Lozakovich stand out from his generation, beyond his unquestionable talent, is his vision, which is very similar to that of the great violin maestros of the past. From his sound to the conception of music, and to the lack of any additional artifices, Lozakovich reminds very much of David Oistrakh. He is a classical violinist, in the most positive sense of the word - he is probably still searching for the most suitable form of expression for himself, in this broader artistic pattern. And maybe sometimes more life is needed in his interpretations, a thing that I sensed when I listened to his interpretation of Beethoven's Violin Concerto in D Major, Op. 61, recorded with Munich Philharmonic and conducted by Valery Gergiev.
Daniel Lozakovich - a talent to be followed in the years to come. At just 19, he is already a maestro, inheriting the tradition of the Russian school. He was born in Sweden, although his parents come from Kyrgyzstan and Belarus. Being a protégé of conductors Vladimir Spivakov and Valery Gergiev, Daniel Lozakovich came to the worldwide attention without having to go through the dire straits of the international contests. Moreover, he already has two CDs released at the Deutsche Grammophon record label in 2018 and 2019, with compositions of Bach and Tchaikovsky. He is, if you please, the Jan Lisiecki of the violin, following the same career pattern. At an age when others are still unsure as to what life path to follow, Daniel is an established and renowned talent from an early age, with a spectacular career. He was only 15 when signed with Deutsche Grammophon!

Translated by Cotar Alexandr,
Universitatea din București, Facultatea de Limbi și Literaturi Străine, MTTLC, anul II
Corrected by Silvia Petrescu