Disk of 2017 > [Archived] Clasic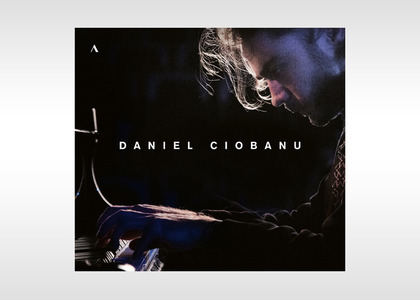 Pianist Daniel Ciobanu - debut album
Thursday, 8 October 2020 , ora 13.48

It was the time, at the age of 29, for the debut record of the exceptional pianist who in 2017 won the second prize and the audience prize at the Arthur Rubinstein Competition in Tel Aviv. A special personality, an extraordinary artist - there was no time for this first record in normal times, but in pandemic times, the record being recorded in May 2020.
An exceptional record and a sensational debut, in the context of a pandemic that for Daniel Ciobanu meant reaching a degree of artistic maturity that recommends him as one of the great artists of our times.
A debut album as not very often appear today - a quite rarely approached repertoire, a pandemic diary in the sense of an artist with a special personality. Prokofiev, Enescu, Debussy and Liszt mean our world today in Ciobanu's interpretation - with the fears, serenity, explosion and passivity of our times. An exceptional performance, in which we feel the rich maturity of this pianist who seems to me to have evolved extraordinarily - you can't help but be shaken by his Dante Sonata or moved by his pianists from Debussy. A narrated Enescu, with the sonority of overlapping bells that invites to meditation and to understanding a context of life lived by Prokofiev when he composed his VIIth Sonata, one of the three war sonatas.
Surely, it's not an easy repertoire for the listener, but one that invites to reflection and internalization - but in times of pandemic I think we need them all the more. And Daniel Ciobanu exceeds our hope that he will be one of the great pianists in the world - he is already one of the best pianissimos we have listened to lately, worldwide and he deserves heartfelt congratulations on his first record.
Daniel Ciobanu: The idea of the record was quite spontaneous. The long and the short of it, three weeks before the recordings, I received the invitation from Accentus. In principle, we had two days of recordings before the renovations of the greatGewandhaus hall in Leipzig. A rather terrifying project for me, being the first record; the preparation time was quite short. Most of the Debussy preludes you can find on the record were learned right then, in the three weeks and ... the "scariest" part was the lack of audience. It was the first time I had to connect to the performance state, to still keep the live element despite the fact that it is a CD and a recorded concert. And it was there that I suffered, quite a lot,to be honest, having no place which to get my energy, my inspiration from. For me, the audience is extremely important, even vital I could say, and it was there that I had to work a little.

Which is the liaison of the program on this record?
We somehow tried to connect the record to nowadays, especially during the pandemic, when we somehow had a break from our routine, from everything familiar to us and we actually woke up locked inside the house. That is why I decided to start with Prokofiev's Sonata, which is not an appetizer just right for a CD start, but I thought to start from the real point where we find ourselves in physically, somewhat in this invisible war with the virus, but also as a state of mind. As for me ... I needed a bit of a shock to startthe CD, and somehow the sonata, Prokofiev, matched perfectly, he himself being in a sort of lockdown when he finished the song. Him being far away from his country, in a lockdown, during the war between Germany and the Soviet army, especially the tension transmitted by the sonata is one to make one look over their shoulder, to worry, to look for moments of serenity, peace, in an extremely neurotic and extremely agitated packaging. That is why I thought it was a pretty good idea for the listener, especially since even now, in September, we are still struggling with the same psychological assaults; we are attacked by the virus, by all kinds of social changes ... it is unknown if our borders will be closed, if we will still be able to travel, if we willstill have the freedom that we foughtin real wars to win.

Another atmosphere in Carillon nocturne by George Enescu, a work that I know you especially love.
Yes. Enescu seemed perfect to me after the Prokofiev massacre. The bells are a leitmotif of peace, tranquillity, of an outcome that is not always happy, but that brings hope again. Even Enescu, after composing, even lost the score during the First World War and to me it seemed another connection, again quite strong, between Prokofiev and Enescu, both being somewhat in the same psychological state, somewhat searching for the peace after the storm.

Was it important for you to also include a work by a Romanian composer on this record, your first record?
Of course that somewhere, subconsciously, I want to be a promoter of Romanian music, especially of quality Romanian music, and especially in Enescu's song, which is absolutely a sonorously and harmonious feast. It seemed to me that it has its place there, naturally, without me insisting or bothering to integrate the song in the program of the record.

And then, those Preludes from Book I by Claude Debussy, learned in just three weeks. And these, sung with such a special character, I shall say, because, for example, in the case of the Prelude "The girl with the flaxen hair" you propose something different from what pianists usually do.
Yes, I don't know, I can't comment in regards to that matter, I don't know precisely how everyone feels when they listen to the preludes, especially when they areinterpreted by me. There, in principle, I somehow tried to bring the memory of nature and the importance of nature in the role of everyone's life to the fore. Impressionist music in general has the power to magnetize landscapes and the emotion that is created between man and nature, between man and the impressions around him, to me is the most powerful in all periods of classical music. And I tried to bring a moment of aromatherapy, a moment of perfume, an effective moment of recollection of memories and of the beauty of nature there, despite the fact that we are or were stuck insideour apartments and we were not even allowed to leave our house at that moment, our only escapade being the imagination, through sound, through pictures, etc.

And you close off with an explosive Dante sonata by Franz Liszt, reminiscent of the Divine Comedy, somewhat a return to the world of Prokofiev, but on a different level.
You have probably also heard that it is a pretty non-infernal approach. Surely, there are times when the music erupts on its own, but I tried to somehow bring the connection between people to the fore there. The sonata was inspired by Victor Hugo's poem, but also by Dante's Inferno, which has the connection between Virgil and Beatrice as its narrative core, a connection of love, of the need to have someone close, to fight for someone and to me it seemed to be a fairly good cadence for the CD; let us somehow remember how important it is to take care of each other and not necessarily us, as people, but us along with nature and the circumstances, not to end up in the situation we went through, with a virus, with a pandemic, with wars, etc. Once again, Liszt succeeds, through the intensity of the compositional technique he generally uses in compositions, but especially here with the newt, with the devil's interval, all the tension that accumulates in about half of the song with this interval that is not solved and somehow remains in a super strong emotional distress, he manages to and brings the perfect quintet in the end, the openness and hope that together we can succeed, we can overcome any trouble, any suffering that life gives us.

It is a very beautiful message! Do you reckon this period of the pandemic mattered a lot to you as an artist? I don't know if that's the case; this is my impression listening to so mature a record from a young man who has not yet turned 30 years old. How was this period for you? Did you feel the maturation, did you feel the worries, and did you perhaps feel the presence of more free time for study? How was it? And how does it continue to be as we speak?
At first, it was a little harder to understand what was going on around me. As artists, we are always in a rather chaotic situation, in a rather emotionally unclear situation. There are all kinds of unpredictable scenarios, both happy and unhappy, intense preparations, moments of me and just me in the study room. And, from that point of view, I didn't feel a big change. I continued to study, I did my study hours as before, but the part where I suffered was actually the anxiety about my health, my parents', and the health of those close to me and of the world in general. And then, what happens to the orchestras; they began to go bankrupt. Many concerts have been cancelled, which is not a very positive sign of the future. And, somehow, this part contributed even more to my inner uneasiness. I really had to fight there and to somehow distance myself from the career side, to focus on the inside and how I can take advantage of the time spent at home. We are lucky that we are still connected to the internet, which is an absolutely infinite source of knowledge. I worked a lot on future ideas, on all kinds of projects. It somehow caught me on the right foot; I even had moments of free time, of actual relaxation, in which I even read about all sorts of different topics, I became interested in the world of theatre, the world of art, painting, and poetry and so on. From this point of view, I really enjoyed a breather.

And now, concert life is beginning to re-emerge. What are your plans for the future?
This month is pretty infernal in terms of logistics. I just returned from Salzburg, where I had a rehearsal with an absolutely unique project - Beethoven's variations on a Diabelli theme, the 33 variations combined with 33 mini-dramas with two actresses: the daughter of conductor Karajan, Isabel von Karajan, one of them and HenrietteThimig. A play, in principle, with a sound background of Beethoven's variations, in which we show 33 kinds and ingredients of love in general, between mother and daughter, between mother and husband, daughter and boyfriend, the lover she did not have but whom she is waiting for ... Next week I have a concert very special to me; It's the debut at the Konzerthaus Berlin. Not only that, but it is also with one of my favourite Romanian conductors, Gabriel Bebeșelea, where we will perform Concert no. 2 of Saint-Saens. A concert I can't wait for, next week, on Thursday and Friday. Next we will present the play with Diabelli in Lausitz, Germany. And then I have the first concert with the new solo program, in Ostrava on October 5th - again a program quite thematic to nature and a route that I called Globenade, a musical route that starts in the middle of the forest, in the middle of nature. Here I would like to draw a little attention to the illegal deforestation that happens everywhere but, especially in Romania. Then, it will develop in the microcosm of nature, on the animal side, with several songs on birds, on the ocean side with songs by Debussy and songs by Rachmaninoff, followed by the War Sonata that I hope will bring peace at the end of the program.
The debut album of pianist Daniel Ciobanu can be listened to on Monday, September 21st, at 7 PM, for the Romanian premiere on Radio Romania Musical.
Cristina Comandașu
Translated by Drangoi Ioana – Alexandra,
Universitatea din București, Facultatea de Limbi și Literaturi Străine, MTTLC, an II
Corrected by Silvia Petrescu