Disk of 2017 > [Archived] Clasic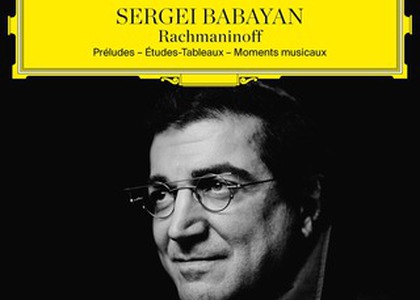 Pianist Sergei Babayan - works by Sergei Rachmaninoff - Music box, September 28, 2020
Thursday, 8 October 2020 , ora 14.05

Piano works by Sergei Rahmaninov, in the interpretation of the pianist Sergei Babayan, from a disk released by the Grammophon Deutsche House on August 7th, 2020 - the October record at the BBC Music Magazine.
In 2018, we came across the name of the pianist Sergei Babayan on another disk which came out at the Deutsche Grammophon House: Prokofiev for 2, recorded with Martha Argerich, a disk listened at Radio Romania Muzical as well. In 2017, Babayan appeared next to Daniil Trifonov on another album, and in 2016 he appeared on a disk containing concerts for the piano and orchestra by Prokofiev, recorded with the Mariinsky Orchestra, conducted by Valery Gergiev. Yes, the disks with Sergei Babayan are not so numerous.
The pianist, who is currently 59, signed an exclusivity agreement with a record label only in 2018. However, he prides himself on having a remarkable career: international prestigious awards that he has won up to the age of 30, concerts on the world's great stages, and, especially in the last 15 years, an important teaching career at Cleveland Institute, his best-known disciple being Daniil Trifonov. Sergei Babayan, who is of Armenian origin, was the first pianist from the former Soviet period who participated in international competitions after 1989, without the support of the state. Back then he was named "a genius".
The attention to the details and the perfect understanding of Rahmaninov's music come through Sergei Babayan's interpretations on this disk released on August 7th which received favourable reviews from The Guardian, who talked about the refinement that can be felt in everything Babayan creates.
I would say that we rediscover Sergei Rahmaninov's piano music through Babayan's fingers; he doesn't choose the most well-known works, and neither the most technically flamboyant ones, but he chooses the most internalized ones, which demand a higher degree of concentration from the audience. It is the Russian world, looked at with Rahmaninov's nostalgia of the paradise lost when he left it - Babayan's touch, his nuances, his structure, these are proof of a mature artist, a master coming from the old Russian school, as few are today.
Cristina Comandașu
Translated by Lica Alexandra,
University of Bucharest, Faculty of Foreign Languages and Literatures, MTTLC, year I
Corrected by Silvia Petrescu