Disk of 2017 > [Archived] Clasic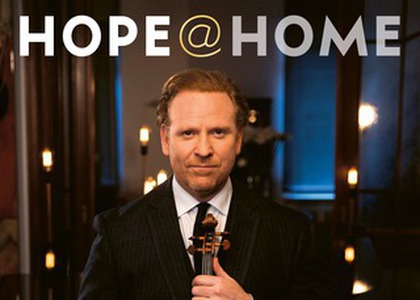 The violinist Daniel Hope, the album 'Hope@Home' - Music box, October 12th, 2020
Thursday, 15 October 2020 , ora 16.22

Once the concert halls in Bucharest closed we come back to last spring's situation when the musicians from all around the world tried to keep the connection with the public through online meetings. That's what the famous violinist Daniel Hope who lives in Berlin did. From his living room, Daniel Hope and several other musicians showed up in live recitals streamed through social media and on the Arts television channel, these recitals collecting over 2.5 millions viewers.
Selections from these recitals with a special meaning are found now on the record released on 11 september at Deutsche Grammophon house. A collection of songs where you'll find transcriptions of some famous chansonnets, songs from classical music, themes from movie soundtracks. The binder is the nostalgic feeling with a healing role, I would say, of all these musical works.
Daniel Hope, Yehudi Menuhins disciple and one of the most important violinists of our time, is an innovating musician and full of interesting ideas. All of his albums that he has released until now have a specific mark. In 2020 the Belle epoque album was released, with an interesting musical selection representing this period of time, in 2018, A journey to Mozart with works signed by Mozart and his contemporaries, in 2017, For seasons, with The Seasons by Vivaldi, but other 12 works as well describing for Daniel Hope every month of the year. Very close to us was the album My tribute to Yehudi Menuhin, released in 2016, where Hope performs works of George Enescu as well.
From 2016, Daniel Hope is the music director of the Chamber Orchestra from Zurich-with whom he also recorded, on the other hand, a part of his last albums. The violinist Cristian Andris is part of this orchestra and said in a recent interview for Musical Romania Radio about the experience of recording with Daniel Hope- a session of recordings that just ended. From 2019, Daniel Hope is also the art director of a symbolic church from Dresda, Frauenkirche, and in 2010, the honorary president of the Beethovens house in Bonin.
Hope at home- a project in which you can feel the emotion of the artists obligated to stay home, far from the public. A piano a little out of tune, songs performed at warm- even literally because the arranger Christoph Israel, who is also the pianist in the majority of the songs from this album, in some cases he finished the sheet music from which they had to perform just a couple of minutes before the debut of the recitals. A repertory orientated towards a large public, selected with taste and performed with passion. A project that reminds us of a hard spring for artists, this just as hard autumn and with the hope that one day life will come back to normal. For the moment, that day seems pretty far away
Cristina Comandașu
Translated by Țîru Mălina Roxana,
University of Bucharest, Faculty of Foreign Languages and Literatures, MTTLC, year II
Corrected by Silvia Petrescu