Disk of 2017 > [Archived] Clasic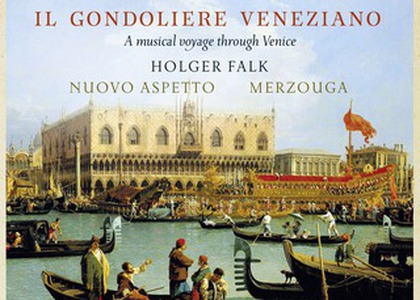 The album 'Il gondoliere veneziano' - A musical journey through Venice (I; II) - CD Review, 3-4 December 2020
Tuesday, 8 December 2020 , ora 16.37

'Il gondoliere veneziano - a musical journeythrough Venice' is the title of the album released on June 26, 2020 by baritone Holger Falk, the early music ensemble Nuovo Aspetto and Merzouga - an electro-acoustic duo that offers us a completely unique listening experience. They intertwine the very buzz of the city with the sound of music.
The music presented is a part of an old tradition - of gondoliers who have been leading their passengers through the alcove of canals for centuries, or even through the Gran Canale, most often singing. It is not about the music of opera houses or concert halls, but about the so-called 'barcarole' or 'canzoni da batello' - in translation, pieces sung in a boat, most often with passion and talent; pieces that are mixed ina background of the sounds of inns, fisheries or the ones made by steamers when stationary, sounds of bells, human voices, seagulls, snippets of songs and especially the sound of gondolas crossing the lagoon incessantly, the roar of the sea and the one of the daily life. Then, shall be added the so pleasant voice of baritone Holger Falk, one of Germany's most awarded singers today, a voice of obvious eloquence that highlights the charm and especially the message of these lively 'canzoni'. They make us understand where he drew his sap and 'Vivaldi spirit', all this contagious light and 'joie de vivre', so welcome in the times we live in. The album describes a vivid picture, which leaves us with the feeling that each of us is in a gondola, under the Venetian sun, listening to his music and enjoying its immeasurable beauties and charm.
What are we listening to? Arias and songs by Giuseppe Tartini, Domenico Cerutti, Pietro Auletta, most of which are anonymous. These 'canzoni da batello' flourished in the mid-seventeenth century, but remained mainstream even later. They were transmitted by word of mouth from generation to generation of gondoliers. Much has been written on this subject; there are testimonies under famous signatures such as Goethe, Rousseau about these singing gondoliers who contributed greatly to the spread of the image of a Venice - 'city of music'. It was beyond what was achieved professionally in theaters opera, in cathedrals or in hospitals.
A few words about the protagonists: Nuovo Aspetto is an ensemble founded in 2011 by three German musicians, Michael Dücker, Johanna and Elisabeth Seitz. Their aim is to present the baroque from new perspectives, less familiar or unapproached. They propose a new repertoire breakthrough focused around the dulcimer, the harpsichord and the lute. Thus, their searches led them in the footsteps of Georg Reutter, an author discovered by Joseph Haydn, Francesco Ratis presented with a collection of spiritual Canzonettes dated 1657. They also recorded Arias by Antonio Caldara together with the countertenor Valer Săbăduș and others. No doubt that the ensemble is invited to the most prestigious festivals and it is, according to critics, applauded frantically as in a jazz club. We can really understand this by listening to 'Il gondoliere veneziano' which truly proposes a new approach, if we consider the interventions of the duo Merzouga specialized in electroacoustic sound compositions. They are as follows: Eva Pöpplein - computer music, and Janko Hanushevsky - bassist and radio producer. They are well known for their sound projects broadcasted on radio stations around the world, for the music for theater stages and, of course, for film productions. In this album, which is already nominated for the International Classical Music Award - 2021 edition, they bring a sound component from today's Venice, tangled in the musical script that belongs to this centuries-old tradition of singing gondoliers. The role of baritone Holger Falk is undoubtedly essential, with his voice of great eloquence and quality, which is caught in a lasting play between music and sound effects proposed by the duo Merzouga.
Baritone Holger Falk also wrote down an essay in the album's booklet. If we read it, we learn that the English publisher John Walsh collected these 'canzoni' in his Venetian travels and published them in the 1740s. Thus,they became known in European salons, but they were alsonotoriousto those two ensembles that made this album. 'The two worlds', concludes Holger Falk, 'merge into a soundtrack of Venice beyond time. They created some ever-changing chameleon sounds, which are exactly like the city that is built in the swamp of the lagoon. Its charm, the cruise ships and the mass tourism become a symbol of its slow disappearance in our era'. This album, 'Il gondoliere veneziano' released under the Prospero logo, part of the 'Discs of the Year 2020' project, remains an unforgettable experience.
Marina Nedelcu
Translated by Oacheșu Ioana,
University of Bucharest, Faculty of Foreign Languages and Literatures, MTTLC, year I
Corrected by Silvia Petrescu