Disk of 2017 > [Archived] Clasic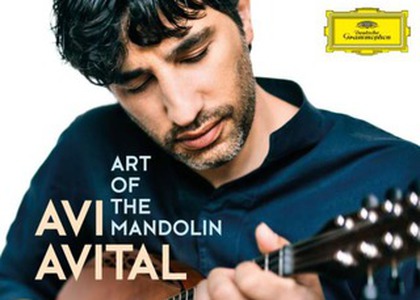 Avi Avital - 'Art of the mandolin' album - Music box, December 14th, 2020
Thursday, 7 January 2021 , ora 10.08

On November 13, Deutsche Grammophon released the latest album by Israeli mandolinist Avi Avital: Art of the mandolin, an album featuring original compositions for the mandolin. It is AviAvital's fourth author's album for Deutsche Grammophon and the first to include exclusively works for the mandolin. Here is a famous example: The Concerto in G major for two mandolins and orchestra by Vivaldi, recorded by Avi Avital with the Baroque Orchestra of Venice and Alon Sariel on mandolin.
Did you know that Beethoven also composed a work for an ensemble that includes the mandolin? It is a very little known and candid Adagio created in 1796 for mandolin and fortepiano. Avi Avital included this work on his album Art of the Mandolin, a recording made in January 2020 with harpist Anneleen Lenaerts.
I admit that I am an admirer of Avi Avital, this musician who turned the mandolin into a real star for today's international concert scenes. At the age of 42, he has already collaborated with Deutsche Grammophon for 8 years, 5 author albums and others on which he appears as a guest, has a nomination for Grammy Awards and concerts on some of the most prestigious stages. Because Avi Avital managed to make the mandolin sound like a flute, a violin or an instrument for which the works he sang were performed in the original - beyond his extraordinary virtuosity, musicality and intelligence with which he approaches any work which he sings.
Beyond the transcripts, Avi Avital managed to enrich the repertoire dedicated to his instrument by ordering musical works, several of them included on the album Art of the mandolin.
In February 2018, Avi Avital sang for the world premiere at the Elbphilharmonie in Hamburg a work that his friend, the American composer David Bruce, had written for him: Death is a friend of ours. There are three dances in chivalrous spirit, composed for a variety of instruments with pinched strings: lute, guitar, harp, theorbo and harpsichord. A discovery!
More and more often we find in the concert and recital programs the works of Giovanni Sollima, Italian composer and cellist born in 1962 who also wrote a prelude for the mandolin, performed by Avi Avital on the album Art of the mandolin. A work full of life, in a neoclassical spirit, but with an obvious touch of modernity.
An interesting album, admirably performed, an opportunity to enjoy well-known works, such as Vivaldi's Concerto for Two Mandolins and Orchestra, but also to discover contemporary works worth revisiting such as Death is a friend of ours by David Bruce or The Mandolin Prelude by Giovanni Sollima.
Cristina Comandașu
Translated by Crețu Elena,
University of Bucharest, Faculty of Foreign Languages and Literatures, MTTLC, year I
Corrected by Silvia Petrescu