Disk of 2022 > [Archived] Clasic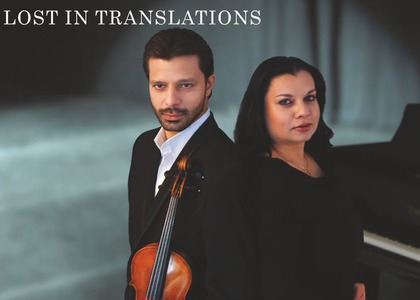 Violonist Răzvan Stoica, pianist Andreea Stoica and Kamerata Stradivarius – the album 'Lost in translations' - Music box, January 10th 2022
Sunday, 30 January 2022 , ora 12.42

A CD released at the end of 2021, under the symbol of Casa Radio Publishing House - Lost in translations with violinist Răzvan Stoica, pianist Andreea Stoica and Kamerata Stradivarius, a set of strings with variable composition, founded by Răzvan Stoica more than a decade ago.
The recordings you are going to listen to were recorded at Sala Radio in January 2020, at Radio România Muzical's initiative. An uncommon title - Lost in translations, for a program which reunites not only different works by Astor Piazzolla, but also by Romanian composers.
I accompanied the audition of this album with an interview with the violinist Răzvan Stoica and the pianist Andreea Stoica - two musicians who are now known and appreciated in their native country - where they returned after a long period of time in the Netherlands. Răzvan Stoica, winner in 2013 of the New Talent competition in Bratislava, organized under the auspices of the European Radio Union, plays on a Stradivarius violin obtained following a competition where he had almost 200 opponents.
An album performed with passion, bringing into light a rare repertoire together with a CD - Piazzolla and works with Romanian inspiration, talking about union and cultural values.

In front of us there is the second CD of the brothers Răzvan Stoica and Andreea Stoica, and this time together with Kamerata Stradivarius. It is the second CD for Casa Radio Publishing House. The first one was released in 2013. Now, in 2022, at the beginning of January we release this CD for which the recordings were made in 2020 - Lost in Translations. How did you create this concept?
Răzvan Stoica: At the beginning, when we started recording this CD with a quite diverse repertoire…the four seasons by Piazolla, and then Romanian songs… It wouldn't make sense, at the beginning, if we are to take it logically, but we were attracted exactly by this difference of styles. And then we lost ourselves, in a way, in musical transitions. We were in a discussion with the producers from Casa Radio Publishing House, and we thought that this title would fit in perfectly, especially that it is a diverse repertoire.

In fact, the idea from which it all started was the recording of The Seasons at Buenos Aires by Astor Piazzolla. It was a tribute to Piazzolla. In fact, we did not have time to celebrate the big anniversary last year, in March 2021, due to the pandemic. but that was the logic behind the CD, one of them. You have a special relationship with Piazzolla's music, with tango in general, and I would like each of you to tell me how you see his music and this style across the ocean.
Andreea Stoica: We probably feel closer precisely because of the emotions that Astor Piazzolla conveys and the fact that he goes from one extreme to another, from very volcanic to passionate and, nevertheless, restrained at certain moments. And we somehow find ourselves in his musical vibe.

Ei, Piazzolla cântat la vioară? Well, did Piazzolla play the violin?
Răzvan Stoica: Piazzolla playing the violin for me has a special meaning because one of the first concerts I took part in the Enescu Festival ... I remember that I was around 9 years old, my father took me to a concert, and it was even at Kremer singing Piazzolla. And I thought it was absolutely fantastic to be able to achieve such effects on the violin, things that I had never experienced before, I had never heard anywhere. Living with the recordings of David Oistrah, of Heifetz, I was not aware of this Argentine style of playing the violin, very open, very frothy. Later, I began to take a liking to Piazzolla, especially Kremer's interpretations; That's why I started my first projects with Kamerata Stradivarius, even with Piazzolla.
Interesting! You sing here some transcripts made, in fact, for all the songs. Let's talk a little about these transcripts.
Răzvan Stoica: Leaving aside the four seasons of Piazzolla that I remade for piano, violin and string orchestra, the other pieces, respectively the Romanian pieces ... I was, in a way, I would not say forced by circumstances, but we liked to come up with a slightly more compact version of the orchestrations from Balada by Ciprian Porumbescu or Enescu. And another piece that I discovered recently, by Ciprian Porumbescu, Reveria, an unsung piece, a piece that I discovered being in a jury at a national competition; a 7th grader sang this song, and I was completely drawn to it, I couldn't believe that there is another Porumbescu song with a more Viennese style, not so Romanian, a romantic Viennese style, very nicely written, even in the style of Kreisler. Afterwards, we searched for the scores - there was no arrangement - and we decided to make the arrangement for string orchestra, for piano, an arrangement that ended just four days before the CD was recorded. I had finished it somewhere between two flights and that's why it has a load ... every time I think of Reverie, I remember many trips.

Those who will listen to this CD will notice that we have a soloist violin, but, in fact, we also have a soloist piano. The piano does not have an accompanying function there, but is a soloist presence. How did you feel in this environment of the songs on the CD?
Andreea Stoica: Somehow it was our idea as well, to transcribe all these pieces for both of us and for our colleagues in Kamerata, so I'm used to this posture, and I really like it. It's something new, it gives you at the same time a certain freedom to integrate in a group even if you are a soloist.

Let's talk a little about Kamerata. Who actually did the recording, because Kamerata Stradivarius means two distributions, right?
Răzvan Stoica: Yes, we have two distributions. We have a Dutch cast that we usually work with in a slightly larger version, of 14 musicians. But, this time, I worked with Romanian musicians, with former students of mine, with musicians already established in what chamber music means, orchestral music; one of them is even employed in the Radio Chamber Orchestra, Ștefan Barbu, a fantastic violinist. Two others, students of mine from the Bucharest Conservatory; a very, very good cellist, Mihai Grigore - we have been working with him for 4 years and I like that he has that style not only solo, but he knows how to integrate the cello so well in different musical styles, that sometimes I have the impression that he takes over the piano the same stamp ... and that's what I thought was fantastic for a cellist to do. I worked with two bassists this time; two double bass players from the Ploiești Philharmonic and the Dresden Philharmonic, also Romanians, with whom we managed to put this project exclusively at this time for Romania, but we have already been asked 4 or 5 tournaments that we want to do in 2022, 2023, next season.

So, we have Romanian music or Romanian essence, because we also have Bartok with the Six Romanian folk dances, and then a trip to the antipodes, taken to South America by Astor Piazzolla. Maybe it's a good idea to celebrate National Culture Day this way. In general, in Romania, whatever means a national holiday leads to a festivity that cuts the momentum, but, on the other hand, celebrating the values ​​with which we grew up, which represent us, I think is always a good idea. How would you see, in this context, on National Culture Day, a message to your audience about what the work you do in the context of Romanian culture means?
Răzvan Stoica: For us, the Romanian public - and here I think Andreea agrees - has a special place. Ever since we returned to the country and started the concerts again, we feel an energy that we only feel in Romania. That's what we have to admit. It's an energy ... I don't know ... maybe national, maybe it's about us, that we feel better in the country every time we come back or that we have a sharper energy, in a way, when we go on stage ... but we have a fantastic audience in Romania. We hope that in the next period - I am not just talking about artists or the public - we will all return to some values, to the values ​​we grew up with, which we learned in high school, in school, which we learned in society, let's go through this a little weird period, with all sorts of ... I wouldn't call them bad things, but small frustrations that we all experienced during this pandemic period. We could now, with the celebration of National Culture Day, return a little to our spiritual values.

For you, what are these values, more precisely? In fact, let's define the values ​​in which we all grew up, those who have reached beyond 30 and some years, 40 and some years, in my case. These are values ​​of those who knew perhaps something from the communist period. Those under the age of 30 today can't even imagine what it was like then...
Andreea Stoica: ...No, I indeed I can't imagine!

... and, yes, we always refer to these values ​​that we discovered in childhood and that children over 10 years after us have not considered so, not to mention those of now.
Andreea Stoica: Somehow it's normal, because it's this generational change. It's not abnormal, it's just that there are probably some grounded things that we really need to get back to. That return to the origins counts at certain moments and I think this is the decisive moment when we should really return to the values ​​we have.
And what are these?
Răzvan Stoica: We have values ​​in writing culture, we have values ​​in music culture. We were lucky with this Enescu Festival that we were able to rediscover them. We have, of course, fantastic painters, forgotten, unpromoted painters. In a way, the art market in the world sees them as a bit non-commercial, but precisely because they are not promoted or given the opportunity to explain or bring their art in the spotlight. Just like, for example, being used to traveling a lot, I didn't travel with a lot of books, but I had them on my iPad; I would open the tablet and read a book. Well, recently, I rediscovered the real books, the ones with pages, that smell of a book that, I don't know, is a fantastic experience ... things that I grew up with, but that I took naturally and didn't put much effort into. to have those books or those ways to cultivate yourself or to spend your free time. Now, with access to the internet and so on, these things have fallen into oblivion and I think that going back to the origins also means going back to some physical values ​​like a book.
Andreea Stoica: I think it's more of an opening that each of us should have. Everything starts from here. The moment you open up to horizons that you probably haven't explored much so far, then I think things can change a little, if you have that descent, to things that are a little new that may seem outdated at times, but in fact they are not.

So, are you looking forward to the future now or are you regarding it with incertitude?
Andreea Stoica: Absolutely! With all the openness we were talking about earlier…
Răzvan Stoica: ... and hopefully, I'm convinced! I also noticed, even in society and the people who come to the concert, the audience that takes part in cultural events ... they are, indeed, interested in them to look at a greater openness in what culture means. And, again, I'm not just talking about music, I'm talking about culture. And I hope that we will go through this pandemic period and that we will be able to live beautiful moments and this opening that Andreea was talking about earlier to happen.
Andreea Stoica: Perhaps this period was not as bad from the beginning until the end, and we opened our eyes in a way to the fact that some things are missing. When you don't have something you actually realize what you miss. Perhaps it guides us also in a positive direction.

Thank you a lot and good luck in your next projects! I know it is a period in which plans basically cannot be made; we are always taken by surprise by the way in which this virus changes itself and what else closes where it closes. But as you said, we must look to the future with hope!

Translated by Mara-Sabina Rolea,
University of Bucharest, Faculty of Foreign Languages and Literatures, MTTLC, year I
Corrected by Silvia Petrescu