Disk of 2022 > [Archived] Clasic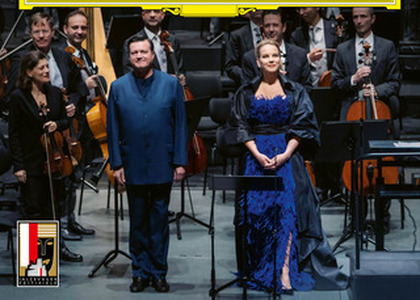 Mezzo-soprano Elina Garanca and the Vienna Philharmonic Orchestra, conductor Christian Thielemann - Music box, February 14th, 2022
Thursday, 17 February 2022 , ora 9.17

The album is released under the Deutsche Grammophon label on December 3rd, 2021 -in it are recordings from the Salzburg Festival, 2020 and 2021 editions, featuring mezzo-soprano Elina Garanca, conductor Christian Thielemann and the Vienna Philharmonic Orchestra.
There are recordings which have in common not only performers, but also the context of the organization of concerts - so few live concerts were organized in 2020 and 2021 due to the COVID 19 pandemic, and these are two of them. And especially, recordings where we find the interpretive excellence, in the wonderful voice of the Latvian mezzo-soprano Elina Garanca, who shines not only in the opera repertoire, but also in the concertante one. A great performance of the lieds by Richard Wagner on lyrics by Mathilde Wesendonck, to whose success has contributed the participation of Christian Thielemann, Wagnerian par excellence, recording in 2020 of a live concert that took place at the Salzburg Festival.
The same distribution, in 2021, at the Salzburg Festival. But another repertoire: lieds by Gustav Mahler on lyrics by Friedrich Ruckert. The world of the fifth, sixth and seventh symphonies is felt in the music of these 5 lieds composed in 1905 - containing the hope, beauty and despair of the life of the composer and the society of the early twentieth century. A world decrypted by one of the most beautiful contemporary interpretations of these lieds, performed live by mezzo-soprano Elina Garanca and theVienna Philharmonic Orchestra, conductor Christian Thielemann.
Cristina Comandașu
Translated by Ana Spînu,
University of Bucharest, Faculty of Foreign Languages and Literatures, MTTLC, year I
Corrected by Silvia Petrescu