Disk of 2022 > [Archived] Clasic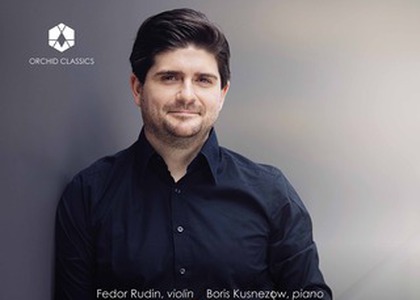 The violonist Fedor Rudin and the pianist Boris Kuznetsov – the album "Heritage" – CD Reviews, 15th of February 2022
Friday, 18 February 2022 , ora 20.05

"Heritage" is the title of the most recent album launched by the violonist Fedor Rudin, an artist of Russian-French origins, who pays tribute, through this discographic accomplishment, to the music from his native country and to the music from his adoptive country, France. The disc includes modern creations from the Russian and French repertoire, recorded with the pianist Boris Kuznetsov. Together, Fedor Rudin offers us a refined, sensitive, impeccable interpretation in terms of engineering. Record last summer, in Stuttgart, and launched on 19th of November at the Orchid Classics house, the album "Heritage" contains songs written in the middle of the XX century by the composers Edison Denisov, Dmitri Șostakovici and Serghei Prokofiev, and also a recording for the first time on the disc -Prelude and Duo from the "Rodrigue et Chimene" piece by Claude Debussy, an unfinished piece based on a libretto by Catulle Mendes, dating back to 1890, from the younger days of the composer. This lyrical creation was interpreted only once in 11993 at the Lyon Opera House. Back then, the composer Edison Denisov, a big admirer of Debussy, finished and orchestrated the piece. And recently, the violinist Fedor Rudin realized an layout for violin and piano of this song, recording it with the pianist Boris Kuznezov.
On this disc there are also included three original creations signed by Edison Denisov, a Russian avant-gardist composer, who studied at the Moscow Conservatory and was supported by Dmitri Șostakovici. Later he became a composition teacher at the same institution from the Russian capital and was elected president of the Contemporary Music Association from Moscow. In the last years of his life he moved to Paris, where he passed away in 1996.
The violinist Fedor Rudin, grandson of the composer Edison Denisov, was born in Moscow in 1992 and grew up in Paris, and later he studied violin with Zakhar Bron, Pierre Amoyal and Boris Kushnir. He played concerts on prestigious stages in Paris, New York and Vienna, working together with the conductors Vladimir Jurowsky, Lorenzo Viotti, Riccardo Muti and Andris Nelsons. In 2021, the musician also finished his conductor studies and the Music University from Vienna. Fedor Rudinhas a great artistic collaboration with the pianist Boris Kuznetsov, who was also born in Moscow and studied at the Gnesin Academy, and at the age of eight he moved to Hanover, here he finished his studies. He is now a piano and chamber music teacher at the Mendelssohn Univeristy of Music from Leipzig and an official accompanying pianist within the ARD competitions from Munich, Joseph Joachim from Hanover and Queen Elisabeth from Brusseles.

Translated by Elena Crețu,
University of Bucharest, Faculty of Foreign Languages and Literatures, MTTLC, year II
Corrected by Silvia Petrescu