Disk of 2022 > [Archived] Clasic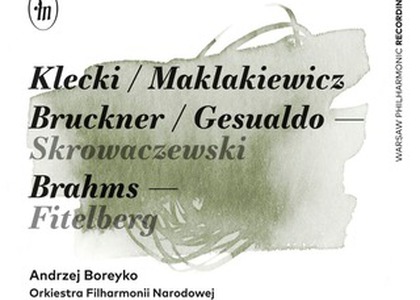 The Warsaw Philharmonic Orchestra conducted by Andrzej Boreyko (I-II) - CD Review, February 2nd- 3rd, 2022
Tuesday, 22 February 2022 , ora 20.51

On November 5th, 2021, the Warsaw Philharmonic Orchestra released a new album. The registrations were made in November 2020 and at the beginning of last year, at the Philharmonic Concert Hall, under the direction of the conductor Andrzej Boreyko, a musician of Russian and Polish origins. These are the conductor's debut blueprints at the helm of the Warsaw Orchestra, while he is stating that record projects are very important in his work. As shown in the album's cover text, the conductor aims to record a series of records to bring to attention to the listeners the unjustly neglected Polish composers, as well as the well-known creations from the universal repertoire. Andrzej Boreyko is thus beginning his journey with this double-disc, which includes in the first part recordings for the first time worldwide, signed by two Polish composers who performed during the last century - Paul Kletzki and Jan Adam Maklakiewicz - and in the second part, the program includes creations made by Anton Bruckner, Carlo Gesualdo da Venosa and Johannes Brahms, interpreted with artistic mastery, stylistic homogeneity and a wide range of harmonic colours.
The Warsaw Philharmonic Orchestra is one of the oldest cultural institutions in Poland, with a respectable history that began in 1901. Among its musical directors were Gregor Fitelberg, Witold Rowcki and Antoni Wit, and since 2019 the conductor ofthe philharmonic is Andrzej Boreyko, who aims to consolidate the prestige of this orchestra, which has celebrated its 120th anniversary, as well to expand its repertoire.
The conductor Andrzej Boreiko was born in 1957 in St. Petersburg into a mixed family: his father is Polish, and his mother is Russian. So, Andrzej Boreyko has always had ties to the two countries of origin. He studied conducting at the St. Petersburg Conservatory and later won the "Gregor Fitelberg" International Conducting Competitions in Katowice and Kiril Kondrashin in Amsterdam. Between 1998 and 2003 he was the musical director of the Jena Philharmonic, and in the following years, he was principal conductor of the Hamburg, Bern, Dusseldorf, Vancouver, and Winnipeg Symphony Orchestras. He also has a good collaboration with the Stuttgart Broadcasting Orchestra, at whose desk he has so far recorded registrations with music by Arvo Part, Valentin Silvestrov and Dmitri Shostakovich. At the end of 2018, after five years as music director of the Belgian National Orchestra, Andrzej Boreyko became the artistic director of the Warsaw Philharmonic, a position he currently holds, composing the orchestra's seasons and his record projects.

Translated by Roberta Ana-Maria,
University of Bucharest, Faculty of Foreign Languages and Literatures, MTTLC, year I
Corrected by Silvia Petrescu