Disk of 2022 > [Archived] Clasic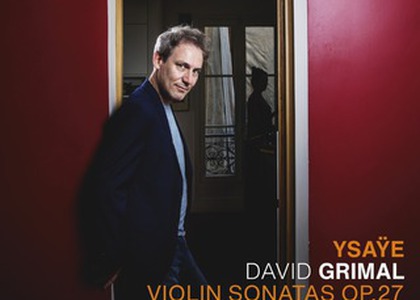 David Grimal: integral sonatas Op. 27 for solo violin by Eugene Ysaye (I-II) - CD Review, January 31st-February 1st, 2022
Tuesday, 22 February 2022 , ora 20.55

On December 3rd, a new album was released with the complete sonatas op. 27 for solo violin by Eugene Ysaÿe. The protagonist of these recordings is David Grimal, one of the most appreciated and active violinists of the moment, both in concert and discography, founder and leader of the famous ensemble "Les dissonances", a musician close to the Romanian scene and the creation of George Enescu. I remind you that the artist also evolved during the recent edition of the George Enescu Festival in Bucharest, and on October 29th, 2021 he released an album that included the Romanian whim of the great composer. Also last year, he debuted for the record label "La dolce Volta" with this album dedicated to the Sonatas for solo violin by Eugene Ysaÿe, a collection of inestimable value, which can not miss the programs of the best violinists in the world.
Sonatas op. 27 for Eugene Ysaye's solo violin was written in July 1923, each piece being dedicated to a famous, contemporary violinist of the composer: Joseph Szigeti, Jacques Thibaud, George Enescu, Fritz Kreisler, Matthieu Crickboom, and Manuel Quiroga. Ysaye was inspired to compose a set of violin pieces after listening to Joseph Szigeti perform Bach's Sonata in G minor. Its purpose was to reflect the evolution of musical techniques of his time. Thus, he used in these works elements specific to the creation of the first decades of the last century, such as pentatonic scales or quarters of tone. Ysaye often spoke of the complexity of expression, technique, and mechanical skills that a modern violinist must master. However, he said, a mature performer should not be concerned with technical requirements but should be a poet, a thinker, a human being, and therefore convey emotion. These are ideas that violinist David Grimal embraces in his recordings. He certainly does not have to prove his extraordinary technical qualities, absolutely necessary in the playing of Ysaÿe's sonatas, so that he delights us with an expressive speech, the sound of his violin has consistency, suppleness, and emotional intensity.
Op set. 27 is known for its extraordinary technical difficulty, combining ornaments of different types, flags, piziccato style and arpeggiated passages with intricate melodic profiles, spread over a large ambitus. Being a real challenge for the most valuable violinists, this set of six sonatas has been printed over time by performers such as Ruggiero Ricci, Gidon Kremer, Frank Peter Zimmermann and Leonidas Kavakos, and David Grimal's version is certainly one of the best appeared so far. With a special timbre richness and counterpoint clarity, the violinist emphasizes the various layers of Eugene Ysaÿe's music.

Translated by Georgiana-Carmen Rădulescu,
University of Bucharest, Faculty of Foreign Languages and Literatures, MTTLC, year I
Corrected by Silvia Petrescu