Disk of 2022 > [Archived] Clasic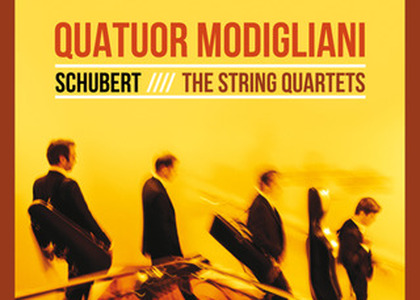 'Modigliani' String Quartet - Franz Schubert - CD Review, February 21st-25th, 2022
Monday, 28 February 2022 , ora 9.30

I propose to you this week, for the first time on Radio România Muzical, an exceptional record - String Quartet composed by Franz Schubert, performed by the Modigliani Quartet. This acclaimed Paris-based ensemble has been performing in Europe and the United States for over 18 years, it has won prestigious awards and has collaborated with renowned musicians such as pianists Nicholas Angelich, Yefim Bronfman and Beatrice Rana, clarinetist Sabine Meyer and cellist Daniel Muller Schott. The Modigliani Quartet has recorded 15 albums so far, with creations from various styles, focusing mainly on classical and romantic repertoire, but also with insights into twentieth-century music. The French quartet has received so far Diapasond'Or and Choc Classica awards for its recordings. The latest album by the French band, released on January 28th at the Mirare record label, is a large one, very ambitious and well done, being dedicated to the 15 string quartets created by Franz Schubert. The recordings are contained in a set of 5 CDs and took place last year in studios in France and Germany.
The Modigliani Quartet is composed of violinists Amaury Coeytaux and Loic Rio, violinist Laurent Marfaing and cellist Francois Kieffer. It has been founded in 2003 in Paris by a group of musician friends after completing their studies at the Conservatoire in the French capital. In its early years, the Modigliani Quartet won music competitions in Eindhoven, Florence and New York, and then it held chamber concerts in Europe, Asia, Northand South America, on stages such as Wigmore Hall in London, Pierre Boulez Hall in Berlin, Flagey in Brussels and the Cologne Philharmonic. In 2014, the members of the quartet became artistic directors of the "Rencontres Musicales d'Evian" festival, one of the most important musical events in France.
At the age of only 14, when he was a brilliant conductor and student at the Stadtkonvikt in Vienna, Franz Schubert wrote his first string quartet, and he did not leave this musical genre until the end of his life. He composed a total of 15 quartets in 15 years, and the quartets are pieces of remarkable inventiveness and lyricism, situated somewhere in between classical and romantic style. They reflect Schubert's evolution, from the period in which he expressed himself intuitively, spontaneously, optimistically, inspired by the composers he admired - Haydn, Mozart and Beethoven, up to his last years when he created wider sound structures, a sophisticated and emotional music, of an incomparable depth and artistic mastery.
Francois Kieffer - cellist of the Modigliani Quartet, says that the quartets from the first stage of creation of the Austrian composer, "overflow with naive happiness, spontaneity and superb intuition, a whole world of intense expressiveness and sensitivity." And Schubert's latest quartets have, according to the violist Laurent Marfaing, "a unique style, a sound world belonging entirely to the composer and no longer resembling the quartets of theclassics Haydn or Beethoven. The indications for dynamic, the focus and fluctuations of intensity express ideas, gestures or sound colors that are specific to Schubert, in his last stage of creation ".The intense drama and overflowing imagination of these quartets give birth to a new world, freed from the strict tonal system of classicism, to reveal a poetic romantic spirit and a wide spectrum of feelings. In its interpretation, the Modigliani Quartet understands all these aspects of Franz Schubert's music, presents a profound, emotional and yet balanced version, without dynamic redundances, expressing a certain nobility and purity, to which we cannot remain imune.
It is worth mentioning that the members of the Modigliani Quartet love vintage instruments: Amaury Coeytaux and Loic Rio play violins built by Giovanni Battista Guadagnini around 1775, Laurent Marfaing enjoys the sound of a 17th century Luigi Mariani viola, and Francois Kieffer plays a Matteo Goffriller cello from 1706. These precious instruments contribute to the stylistic and interpretive cohesion of the Modigliani Quartet.

Translated by Anca Ilie,
University of Bucharest, Faculty of Foreign Languages and Literatures, MTTLC, year II
Corrected by Silvia Petrescu