Disk of 2022 > [Archived] Clasic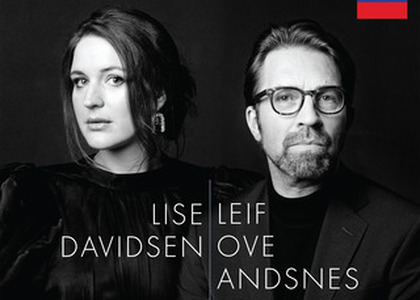 Soprano Lise Davidsen and pianist Leif Ove Andsnes - lieds by Edvard Grieg - Music box, February 7th, 2022
Monday, 28 February 2022 , ora 9.48

An album released by Decca on January 7th, 2022, with numerous laudatory reviews internationally. Gramophone, Financial Times, The Times and The Sunday Times competed in praising the record signed by soprano Lise Davidsen and pianist Leif Ove Andsnes with lieds by Edvard Grieg, recorded in September 2021 in Bodo, a small town in northern Norway. space that inspired the two musicians.
Songs by Edvard Grieg - Norway's national composer, with two of Norway's most important performers today, soprano Lise Davidsen and pianist Leif Ove Andsnes: from the outset, the premise of an impressive production was already evident. Lise Davidsen, who turns 35 on February 8th, 2022, has become a star of the international scene in recent years, after winning the laurels of the Operalia contest in 2015. She has a special stamp of dramatic soprano, which allows her to tackle the difficult Wagnerian roles; began collaborating with Decca in 2019, on the first album he proposed arias and lieds by Wagner and Strauss, on the second, in 2021, arias and lieds by Wagner, Verdi and Beethoven - records that won several awards and nominations.
The name of Leif Ove Andsnes is well known - a famous 51-year-old soloist who did not shy away from being an accompanist; In recent years he has recorded lieds, for example, with Matthias Goerne and Ian Bostridge.
And the Greek lieds, performed by two great Norwegian musicians, sound, as expected, admirable.
I agree with the international critics who have praised this record. It is impossible not to admire not only the beauty of Lisa Davidsen's voice, but also her intelligence, the way she leads her voice, folding on the text, the breathtaking piano nuances, the expressiveness that goes beyond words. No roughness, no sound out of place. And Leif Ove Andsnes is, as expected, a formidable partner, who follows carefully and with many subtleties both Grieg's text and the singer's voice; not just a commentator, but a real actor. Indeed, absolutely admirable!
Cristina Comandașu
Translated by Bianca Dumitru,
University of Bucharest, Faculty of Foreign Languages and Literatures, MTTLC, year II
Corrected by Silvia Petrescu