Disk of 2022 > [Archived] Clasic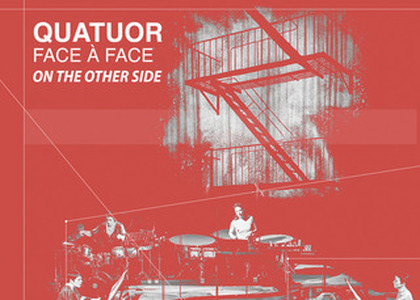 "Face à Face" Quartet - album "On the Other Side" - CD Review, March 8th, 2022
Thursday, 17 March 2022 , ora 9.12

One day on March 8th, a women's quartet, a new record label. Quatour Face à face, founded in 2009, offers a unique distribution - two pianos and percussion, focused on the contemporary repertoire, or as in the case of the first album released on December 10th, 2021 under this new logo Scala Music, on unique arrangements signed by Peter Sadlo: George Gershwin - "An American in Paris", Leonard Bernstein - "The Story of the West Quarter" and a new work by Alexandros Markeas, "Outside Rhythms".
It is essentially a rhythm album, in which we can access sound and pianos as percussion instruments, in an explosion of creativity and overflowing energy. It is a pleasure to rediscover classical scores of the American repertoire in a different timbre composition, rewritten, reinterpreted with these accents related to the fascination and the primordial force of the rhythm. It is also a pleasure to discover Mara Dobrescu in the middle of the action, a pianist trained in Romania with Gabriela Stepan, a graduate as well as her dialogue partners of the National Conservatory of Music in Paris, where she worked with Gérard Frémy, and then -he continued his training with Theodor Paraschivesco, following a master's degree in contemporary music at the Geneva Conservatory. I now highlight only this chamber component of the career of pianist Mara Dobrescu, now in the company of pianist Géraldine Dutroncy and a percussion duo - Hélène Colombotti and Elisa Humanes.
We recognize the harmonies, but the rhythms are all in a new coat, absolutely surprising. I notice the extraordinary involvement of the four performers in the sound approach generated by the arrangements for two pianos, xylophone, drums and other percussions, colors, dancing, rhythmic rigor, passion transmitted to the listener in a synchronized eurythmy (I also refer to the videos that appear on youtube ). The experience also intervenes - "West side story" by Leonard Bernstein in this new formula, has been presented in concerts by the Quartet "Face à face" since 2017.
The collaboration of the four performers with contemporary authors is already known - for example, they performed the Children's Opera "L'Enfant et la Nuit" by Franck Villard or the Chamber Opera "Un Retour" by Oscar Strasnoy, commissioned by the Aix-en-Provence Festival. The album "On the Other Side" also includes a contemporary work - "Outside Rhythms" by Alexandros Markeas, an author of Greek origin, trained in the field of spectral music, promoter of generative improvisation, using multimedia techniques and often interacting with the world of contemporary theater. An audition that we recommend to you beyond the rhythms and territories already well known to us all.
Marina Nedelcu
Translated by Emilia-Georgiana Cãlinescu,
University of Bucharest, Faculty of Foreign Languages and Literatures, MTTLC, year II
Corrected by Silvia Petrescu