Disk of 2022 > [Archived] Clasic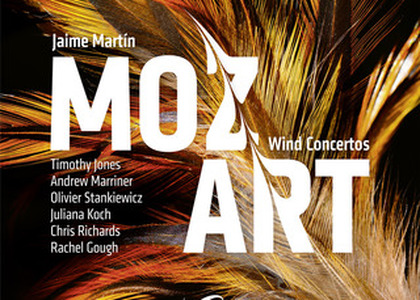 Wolfgang Amadeus Mozart - Wind Concertos (London Symphony Orchestra, conductor Jaime Martin) - CD Review, March 22nd, 2022
Thursday, 31 March 2022 , ora 8.52

On December 19th, 2021, the London Symphony Orchestra released a double disc featuring concert creations for wind instruments and orchestra by Wolfgang Amadeus Mozart.
These are concert recordings made under the direction of Spanish conductor Jaime Martin, a musician who has had numerous collaborations with the London ensemble. He is currently the principal conductor of the Irish National Orchestra and the music director of the Los Angeles Chamber Orchestra, and this year will take over as principal conductor of the Melbourne Symphony Orchestra. He started his career as a flutist, and in 2013 he dedicated himself entirely to conducting and recorded several works, the most appreciated being the albums including Brahms serenades printed in 2017 and the music of Dinu Lipatti recorded with pianist Luiza Borac and Academia St. Martin in the Fields.
Now the conductor is back, with a new album, this time including songs by Wolfgang Amadeus Mozart. Soloists are the best members of the London Symphony Orchestra: horn player Timothy Jones, oboists Olivier Stankiewicz and Juliana Koch, clarinetists Andrew Marriner and Chris Richards and bassist Rachel Gough. Unsurprisingly, these experienced musicians give Wolfgang Amadeus Mozart's concerts an excellent performance - bright, coherent, homogeneous, and expressive.
Larisa Clempuș
Translated by Elena Crețu,
University of Bucharest, Faculty of Foreign Languages and Literatures, MTTLC, year II
Corrected by Silvia Petrescu