Disk of 2022 > [Archived] Clasic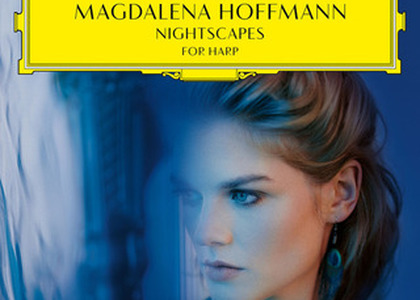 Harpist Magdalena Hoffman – " Nightscapes " album – Music box, 7th of March 2022
Monday, 4 April 2022 , ora 10.04

An album launched by the record label Deutsche Grammophon on the 11th of February: Nightscapes by harpist Magdalena Hoffmann.
A bold undertaking: a solo album for the harp, an instrument more known as part of an orchestra, rather than a solo presence on the concert stage. However, across history, there were numerous people who portrayed this instrument in solo form as well - among them including Nicanor Zabaleta, a harpist who passed away in 1993 and sold over 3 million discs across his career.Nicanor Zabaleta recorded for Deutsche Grammopho, the same record label that Magdalena Hoffman had signed an exclusive contract with in 2021. The first disc released during this colaboration was Nightscapes, recorded in Berlin in 2020 and 2021.
Magdalena Hoffmann is a young and beautifully talented German harpist that has been a part of the Bavarian Radio Symphony Orchestra in Munich since the 1st of November 2018. She studied in Dusseldorf, London and Munich. Before being hired by the prestigious Radio Orchestra in Munich, she was a part of the Symphony Orchestra in Tyrol and worked on multiple chamber music projects as well as other solo projects, which put forth her virtue as well as the nonconformist side of her personality. The playlist that she is administering on Spotify - The Classical Takeover Magdalena Hoffmann - currently has almost 76.000 followers.
For her first album with Deutsche Grammophon, Magdalena Hoffmann opted for the theme of the night and for nocturnal sights. "At night, everything become more intimate", she states, "The nightbrings aboutself-reflection while the soul spreads its wings as well as its imagination. Dreaming or lying awake at night, the limits that our mind feels during the day seem to fade away."
The harp - We revisit the beautiful sounds of this instrument courtesy of this disc by harpist Magdalena Hoffmann. As time went on, there have not been many harpists at global levelto propose such daring projects, especially now, in a discography market affected by the pandemic and a migration towards the exclusive digital medium. The songs created byMagdalena Hoffmann have a distinct, pure quality and her sense of music and sensitivity never fail to move people. If you find yourself in need of an album to escape the sad reality that we are living in, check out Nightscapes by harpist Magdalena Hoffmann.
Cristina Comandașu
Translated by Jin-Cristian Yang,
University of Bucharest, Faculty of Foreign Languages and Literatures, MTTLC, year II
Corrected by Silvia Petrescu