Disk of 2022 > [Archived] Clasic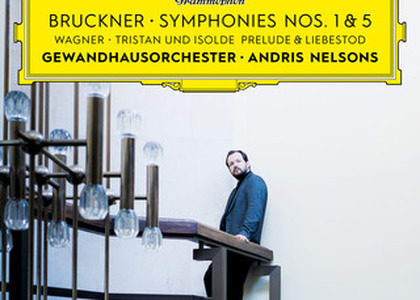 Leipzig Gewandhaus Orchestra, conducted by Andris Nelsons – Music box, the 14th of March 2022
Monday, 4 April 2022 , ora 10.31

An album released by the Deutsche Grammophon record label on the 11th of February: it includes Symphony No. 5 by Anton Bruckner,a version that was proposed during a concert held by the Leipzig Gewandhaus Orchestraon the 12th of May, 2019, under the baton of the main conductor, Andris Nelsons.
On the same album, we can find Anton Bruckner's Symphony No. 1, together with The Prelude and Isolde's Death from the "Tristan and Isolde" opera by Richard Wagner.
It is the sixth and the last album of the series dedicated to the complete symphonies of Anton Bruckner: a project that began in 2017, the first major one proposed by the Latvian Andris Nelsons at the conductor's stand of the European orchestra that he has been leading since 2018, Leipzig Gewandhaus Orchestra. The second largest orchestra conducted by Nelsons is The Boston Symphony Orchestra, for which he has been a music director since 2014 and alongside which he has won several Grammy Awards for the complete symphonies of Shostakovich.
Gewandhaus and Bruckner - not a coincidence. The premiere of Bruckner's Symphony No. 7 took place in Leipzig, interpreted by the Gewandhaus Orchestra, in 1884, and it was one of Bruckner's greatest accomplishments.
The Bruckner series with Gewandhaus and Andris Nelsons has received critical acclaim. About the current disc, international critics have noted especially the warmth of the string part, as well as the ardor of the brass players - whose role is actually very important in Bruckner's symphonies.
We are facing a new important achievement of the Gewandhaus Orchestra, conducted by Andris Nelsons: a very carefully structured and deeply emotional version of Symphony No. 5 by Anton Bruckner. An escape to the sublime, an escape from the trying reality we're living in.
Cristina Comandașu
Translated by Cristina-Bianca Ion,
University of Bucharest, Faculty of Foreign Languages and Literatures, MTTLC, year I
Corrected by Silvia Petrescu