Disk of 2022 > [Archived] Clasic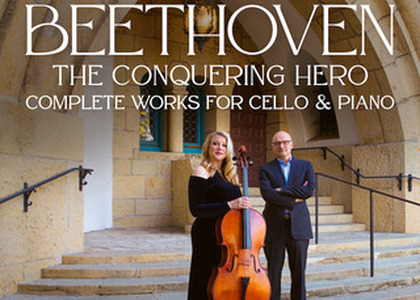 Cellist Jennifer Kloetzel and pianist Robert Koenig. Ludwig van Beethoven – CD Review, April 14th-15th
Wednesday, 4 May 2022 , ora 10.44

Cellist Jennifer Kloetzel's closeness to Beethoven's music has long since begun: the talented musician was only eight years old when her teacher placed on her stand the score of the second cello and piano sonata signed by the German classic. Since then, Beethoven's music has fascinated Jennifer Kloetzel and has been part of her daily life. She studied and recorded the chamber pieces by Beethoven at the Cypres String Quartet, which she studied and recorded the chamber pieces by Beethoven in the Cypres String Quartet, which she founded 20 years ago. And now, the young artist, a graduate of the prestigious Juilliard School in New York, is reaching a new peak in her career, launching earlier this year the entirety of the works for cello and piano by Ludwig van Beethoven, together with the Canadian pianist Robert Koenig. Included in this collection of three CDs, recorded in San Francisco in the summer of 2019 and in September 2020, in addition to the five sonatas for cello and piano by Beethoven, three sets of variations for the same duo of instruments, based on arias from Mozart's "The Magic Flute" and music from the oratorio "Judas Maccabee" by Handel, are included in this collection of three CDs, as well as Beethoven's sonata op. 18 for horn or cello and piano.
"Beethoven the conquering hero" – "The Conquering Hero" is the title of the discographic set released on January 21st by cellist Jennifer Kloetzel and pianist Robert Koenig. The title of this album comes from the famous choir "The conquering hero" from Handel's oratorio Judas Maccabee, a theme that Beethoven processed and to which he added 12 variations for cello and piano. It is a theme that evokes, according to cellist Jennifer Kloetzel, the essence of Ludwig van Beethoven's music – the joy and triumph of good.
Jennifer Kloetzel studied at Juilliard School, receiving from the prestigious New York Institution the "Peter Mennin" Award for her achievements in the field of classical music. JennoferKloetzel has given concerts and recitals on renowned stages in the United States of America, Europe and Asia; he founded the Cypres String Quartet in San Francisco, with which he recorded numerous albums, most of them comprising Beethoven quartets. Currently a cello teacher and head of the string department at Santa Barbara University, Jennifer Kloetzel has an impressive discography, comprising 37 CDs of songs from various styles, from 18th century music to contemporary creation.
Robert Koenig is a colleague of Jennifer Kloetzel's at Santa Barbara University. The musician teaches the piano at this prestigious institution and intensely promotes chamber music; he has given recitals on important stages in North America and Europe, collaborating with famous musicians such as Augustine Hadelich, Sarah Chang, Hilary Hahn and Jennifer Kloetzel.
Larisa Clempuș
Translated by Beatrice-Andreea Porumb,
University of Bucharest, Faculty of Foreign Languages and Literatures, MTTLC, year I
Corrected by Silvia Petrescu