Disk of 2022 > [Archived] Clasic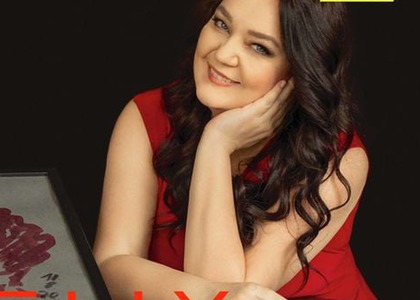 Pianist Ana Marija Markovina. Felix Mendelssohn - CD Review, April 11th-13th
Wednesday, 4 May 2022 , ora 10.48

The complete recording of the solo piano pieces composed by Felix Mendelssohn is a really difficult task, of an extraordinary magnitude, given the huge number of scores that the German composer has dedicated to the keyboard. Mendelssohn has written over 100 works for piano - sonatas, sonatas, whims, fantasies, studies, preludes and fugues, variations, and various other miniature pieces. They involve serious research work by interpreters. There are few pianists who have so far managed to print all of these creations: Martin Jones with his 1996 album and Howard Shelley, who released a similar collection in 2012.
A new set of no less than 12 CDs with Mendelssohn piano pieces was released earlier this year. The realization belongs to the Croatian pianist Ana Marija Markovina, who collaborates with the Hanssler Classic record company.
Ana Marija Markovina, 52, was born in Croatia and lives in Germany. She studied in Detmold, Weimar and Berlin, and her teachers included Paul Badura Skoda, who considered her one of the most important artists of her generation. Ana MarijaMarkovina frequently gives masterclasses, concerts and recitals in Germany and other European countries. She built her career by studying the complete catalogs of piano creations signed by certain composers who attracted her. "When I get involved in researching a composer's music, I feel like I need to know everything about him. The whole creation of an artist can be understood in the context of his lifelong activity ", says Ana MarijaMarkovina, who has so far fully recorded the keyboard pieces by Carl Philipp Emanuel Bach, Hugo Wolf, Anton Bruckner and Luise Adolpha le Beau. And on February 4, he released this new record set of undeniable value, dedicated to the music of Felix Mendelssohn.
Mendelssohn composed three piano sonatas, the first with opus number 6 and the last two opuses 105 and 106, published after the composer's death. However, there were five other sonatas by the German creator - lesser known, without the opposite number, which pianist Ana Marija Markovina included on her recent album. It must be said that the pianist chose to record the German composer's piano pieces in chronological order, wanting to capture Mendelssohn's creative evolution from childhood to the end of his life.
"Mendelssohn was a real cosmos that opened up in front of me, giving me different sound worlds waiting to be discovered," says pianist Ana Marija Markovina about when she decided to study and record all of Felix's solo piano creations. Mendelssohn. "This approach reveals new aspects of the brilliant Mendelssohn. The composer had a constant flow of inspiration and worked on various scores simultaneously. Following his creation chronologically, we can see his artistic development as in a gallery of paintings. "
Recordings for this set of 12 CDs took place over three years, between March 2018 and April 2021 at the Haus der Klaviere in Dülmen, a German city in the North West Rhine.
Larisa Clempuș
Translated by Medeea Alexandra Stan,
University of Bucharest, Faculty of Foreign Languages and Literatures, MTTLC, year I
Corrected by Silvia Petrescu