Disk of 2022 > [Archived] Clasic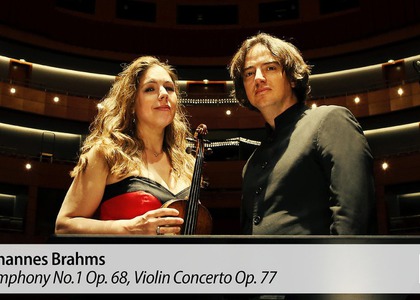 The ,La Cercle de l'Harmonie' ensemble, conducted by Jérémie Rhorer – Johannes Brahms. CD Review, March 31st – April 1st
Wednesday, 4 May 2022 , ora 10.51

As part of the Disk of the Year 2022 project - a double sided diskpaying homage to the symphonic and concerto music composed by Johannes Brahms. Recorded last April at the Grand Theatre inAix-en-Provence, the album was released on November 19th by the NoMad Music record label.The pieces were played by the members of the Le Cercle de l'Harmonie ensemble, an orchestra created in 2015 by French conductor Jérémie Rhorer. The ensemble has so far collaborated with well-known musicians such as Diana Damrau, Philippe Jarousky and Bertrand Chamayou, and is currently the resident orchestra at the Grand Theatre de Provence, which is where it recorded its new album as an homage to Johannes Brahms.
The ensemble's instruments are vintage, which is why sometimes its sound is not ample and clear as that of a modern orchestra, but it definitely has an authentic air. The orchestra focuses on the 19th century repertoire, exploring the connections between the classical and the romantic styles; this repertoire includes both opera and symphonic music - the creations of Mozart, Cherubini, Rossini, Verdi, as well as French and German romantic composers.
The discography of the Le Cercle de l'Harmonie orchestra is comprised of 11 albums, most recent being the one that includes Brahms' Symphony no. 1 in C minor and Concerto no. 77 for the violin and orchestra. The soloist is violonist Stéphanie-Marie Degand, a young French musician who teaches at the Paris Conservatory. In 2016, Stéphanie-Marie Degand founded the "La Diane Francaise" instrumental ensemble in order to explore all the facets of French music over the last few centuries. Stéphanie-Marie Degand is also a conductor, currently assistant of Jérémie Rhorer, with whom she recorded the Concerto no. 77 by Johannes Brahms.
Larisa Clempuș
Translated by Bianca-Maria Ciucașu,
University of Bucharest, Faculty of Foreign Languages and Literatures, MTTLC, year I
Corrected by Silvia Petrescu