Disk of 2022 > [Archived] Clasic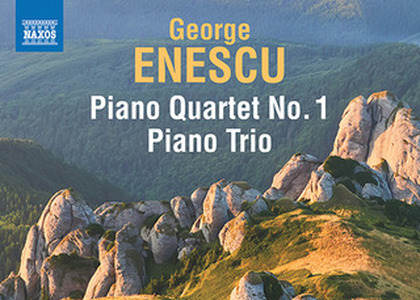 George Enescu - The Piano Quartet No. 1 and The Piano Quintet in A minor – Music box, the 11th of April 2022
Tuesday, 10 May 2022 , ora 20.59

An album released on the 25th of February 2022 by the Naxos record label: chamber works by George Enescu, recorded by the violinist ȘtefanTarara, the pianist Josu de Solaun, the cellist Eun-Sun Hong and the violist Molly Carr. On this album: The Piano Quintet in A minor and The Piano Quartet No. 1, Op. 16, works written in 1916 and 1909, the second piece having gained more popularity than the first one, which only entered the concert circuit after Enescu's death.
In its April number, the prestigious magazine Gramophone was stating: "The performances are wonderfully done. This evocative and powerful music has been given its due attention by the beautiful performance on this excellent album."
There's athing the performers on this album have in common: all three of them are laureates of the George Enescu International Competition and have subsequently preserved their interest in George Enescu's music.ȘtefanTarara won the first prize in the violin section in 2014; Josu de Solaun wonthe first prize in the piano section that same year. Also in 2014, the first prize in the cello section was won by the South Korean cellist Eun-Sun Hong.
ȘtefanTarara, born in Heidelberg in a Romanian family, recorded, in 2016, a complete CD with music composed by Enescu, entitled "Thoughts from childhood";Josu de Solaun, a Spanish pianist in love with Romania, is a regular of the Romanian concert scenes and he also has an album containing the complete piano works of George Enescu, released in 2018.
The violist Molly Carr - considered one of the most famous contemporary virtuosos of this instrument, has never performed George Enescu's music before, but she is known for her interest in modern and contemporary music.
I think of this album that I'm recommending to you today as a must-have: a not so common repertoire, expressing the musicians' love for George Enescu's creation, with vigorous, well-built and well-conducted interpretations, with the necessary notes of lyricism - and, finally, the feeling of solidarity between the winners of the same year (2014) of the George Enescu International Competition - they all make up the first discographic project that I've seen bringing together winners from all of the sections of a competition, undoubtedly showing reverence for the George Enescu International Competition and for our iconic composer's personality.
Cristina Comandașu
Translated by Cristina-Bianca Ion,
University of Bucharest, Faculty of Foreign Languages and Literatures, MTTLC, year I
Corrected by Silvia Petrescu