Disk of 2022 > [Archived] Clasic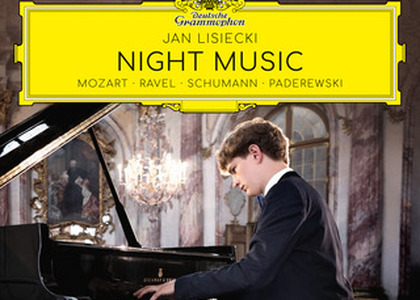 Pianist Jan Lisiecki – 'Night music' album – Music box, April 4th 2022
Friday, 13 May 2022 , ora 16.56

Last year, the Canadian-Polish pianist Jan Lisiecki, released a great album with full Nocturnes of Chopin - a project that continues here, with the album Night Music, exploring the same world - the universe of the night, surprising the works of Mozart, Schumann and Ravel. The night theme is one of the most common ones in the music world: it is also the universe of dreams, the mirage, and the nightmares and fear. A complex universe explored by a great pianist of 27 years.
An album with a repertoire inspired by the night and its very diverse world - from children's world of variations by Mozart (Ah, vous Dira-je, maman) is one of the most popular songs of children folklore French, first published in 1761 , and it was an inspiration for many other works, including the famous Twinkle, twinkle little star) - to the dramatic world of Schumann and Ravel's creation.
In 1839, Robert Schumann wrote four pieces of night op. 23, in tragic circumstances. In March 1839, Robert received a letter from Vienna, where he had spent the winter. The family told him that his brother, Edward, was dying - a tragedy for the whole family, Edward is the one who handles the family business and he is a financial support to everyone. He immediately composes first of the four nachtstücke entitled funeral procession. On April 5th, 1839, Robert moved to Zwickau - his brother died before he could get to the funeral.
The 4 pieces of night op. 23 by Robert Schumann capture the drama and inevitable - a world of romantic interpretation of Jan Lisiecki show us rich, very expressive, with sound plans clearly highlighted and brought to light.
Ondine, Hangman and Scarbo are the three parts of the Suite Gaspard of nuit by Maurice Ravel, one of the most famous works in music history with the theme inspiring night. Meanwhile, about Scarbo was spoken of as one of the toughest, if not the most difficult pieces ever written for the piano.
It is a world that looks at modernity, and at the same time the tragedy of World War I - Ravel wrote this suite in 1908.
Jan Lisiecki, an exceptional Canadian at only 27 seems a demiurge that gets above the drama of this work: we do not feel any effort even in the most difficult passages in Scarbo - the pianist technique is really astounding. But sensing poem Jan Lisiecki wants to put over any fears, drama and horror, leading us through this world of hell, then we opened a window to the morning and perhaps to paradise.
The listings you hear were made during a concert of October 23rd, 2018, supported the imperial headquarters in Würzburg - a recital premonitory for people who would be open to all with March 2020 - pandemic, now war, leaving us but hope that in the end, will shine a ray of light.
Cristina Comandașu
Translated by Mara-Sabina Rolea,
University of Bucharest, Faculty of Foreign Languages and Literatures, MTTLC, year I
Corrected by Silvia Petrescu