Disk of 2022 > [Archived] Clasic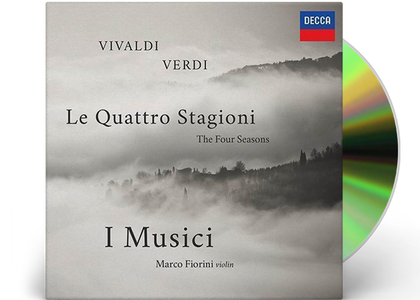 The ensemble I Musici – album "The Four Seasons" – Music box, May 16th, 2021
Wednesday, 25 May 2022 , ora 8.21

An album released on March 11th, under the logo of Decca Classics: recordings signed by the ensemble I Musici from Rome, reunited under the title "The Seasons". Of course, we have Vivaldi's Four Seasons - because I Musici are known for their performances of Baroque music, especially Vivaldi's, but also Verdi's Four Seasons - ballet music from Act III of "The Sicilian Vespers", in a transcription for strings and piano by Luigi Pecchia.
70 years ago, in 1952, I Musici recorded for the first time in history - stereo - the concerts of the cycle The Four Seasons by Antonio Vivaldi - this event is celebrated with this new version, recorded in April 2021 at the Auditorium of San Lorenzo da Brindisi in Rome.
Of course, there are so many versions of Vivaldi's Seasons, interpretations so different by their character, by the tempo, by the instruments on which they are played - and perhaps this is the beauty of Vivaldi's music, that it offers so many possibilities to be interpreted. If, however, we were to look for a classical version, without any artifice, I think I would stop at the present version proposed by the violinist Marco Fiorini and the 12 instrumentalists that make up the I Musici ensemble. Some may not even be used to listening The Four Seasons played in this way anymore, and it would seem boring to them, but others may appreciate this raw performing of the score left by Vivaldi. I did.
On the same album - other seasons, but not by Astor Piazzolla, as most record productions have accustomed us to. But, the far less known Four Seasons of the ballet music composed by Giuseppe Verdi for Act III of "The Sicilian Vespers". A music that represents Verdi so well, performed with obvious pleasure by the Italians who form the ensemble I Musici, together with the pianist Francesco Buccarella. And obviously, a transcription for piano and string ensemble by Luigi Pecchia - himself a pianist and professor, currently, at the Accademia Musicale Chigiana.
Yes, 70 years of history of the I Musici ensemble, one of the few chamber ensembles in the world that can boast with such a long history - celebrated in a proper way: Vivaldi with a soloist - son of one of the founders of the ensemble, and a new arrangement specially commissioned for this record of an Italian work that deserves to be performed more often, this ballet music by Verdi.
Cristina Comandașu
Translated by Ecaterina Bucovanu,
University of Bucharest, Faculty of Foreign Languages and Literatures, MTTLC, year I
Corrected by Silvia Petrescu