Disk of 2022 > [Archived] Clasic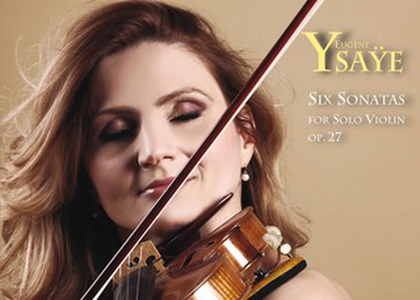 Violinist Anca Vasile Caraman. Eugene Ysaÿe - CD Review, May 16th 2022
Friday, 14 October 2022 , ora 14.09

Eugène Ysaÿe's Six Sonatas for solo violin, Op. 27 were written in July 1923. Each sonata was dedicated to one of Ysaÿe's famous contemporary violinists: Joseph Szigeti, Jacques Thibaud, George Enescu, Fritz Kreisler, Mathieu Crickbooand Manuel Quiroga. After having heard Joseph Szigeti perform Johann Sebastian Bach's Sonata for solo violin in G minor, Ysaÿe was inspired to compose a set of sonatas for violin. Ysaÿe's goal was to reflect the evolution of musical techniques and expressions of his time. Thus, Ysaÿe used specific elements of early 20th century music, such as the pentatonic scale and thequarter tone.Ysaÿe often spoke about the intricacies that have to be mastered by a modern violinist: the musical expression, the technique and the motor skills, but also the ability to convey emotions.Certainly, the performance of Ysaÿe's Sonatas for violin, Op. 27 demands these qualities. Over the years, a number of musicians proved that they possess these qualities. There are various renowned versions of these sonatas that have been recorded by violinists such as Ruggiero Ricci, Gidon Kremer, Frank Peter Zimmermann and Leonidas Kavakos.
A most recent version of Ysaÿe's Sonatas belongs to the Romanian violinist Anca Vasile Caraman, who proves that she possesses a good violin technique, a clean intonation and musical expression. Anca Vasile Caraman's album was released on February 18th 2022 by Stradivarius Records, the Italian classical music label where she had previously released other works in the past few years.
Now, Anca Vasile Caraman is pursuing a doctoral degree at the National University of Music Bucharest and she is coordinated by professor Șerban Dimitrie Soreanu. She began studying the violin at the age of 4 in her home town of Tulcea. Afterwards, she attended "George Enescu" Music High School. After graduation she enrolled at the National University of Music. She left Romania in 2006 to improve her skills at the Accademia Nazionale di Santa Cecilia where she obtained a master's degree. Here she was taught by the Italian violinist Domenico Nordio. In the meantime, she won various prizes for international competitions, both in Romania and abroad, the last of which was in the soloist category "Rovered'Oro 2010". From 2012-2018 she taught preparatory violin at the Brescia and Darfo Conservatory. She also continued her performances in concert activities in Austria, Italy, France, Germany, Denmark, Belgium, Great Britain and, of course, Romania. In addition to all of these activities, Anca Vasile Caraman also has her studio projects. Her discography is mostly comprised of an Italian repertoire - 5 CDs with the music of Antonio Bazzini for the Brilliant Classics label, two albums of musical compositions by Alberto Bonera, as well as the concert collection of Antonio Vivaldi's and Astor Piazzolla's "Eight Seasons". The violinist also released an extensive project alongside her label Stradivarius records, a CD comprised of musical pieces for violin such as the 6 Sonatas and Partitas of J.S. Bach, 24 Caprices of N. Paganini, 12 Fantasias by Georg Philipp Telemann and the 6 Sonatas for solo violin op.27 of E. Ysaÿe.
Larisa Clempuș
Translated by Jessica-Polixenia-Cristiana Copilaș,
University of Bucharest, Faculty of Foreign Languages and Literatures, MTTLC, year I
Corrected by Silvia Petrescu