Disk of 2022 > [Archived] Clasic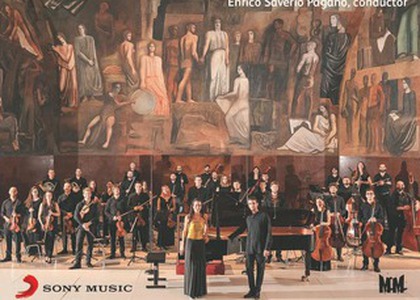 Ludwig van Beethoven - Concerto No. 5 op. 73 in E flat major "The imperial" - CD Review, 5th of October 2022
Monday, 17 October 2022 , ora 10.21

The Orchestra da Camera Canova is an esteemed Italian ensemble, established in 2014, named after the great Venetian sculptor Antonio Canova. The ensemble was founded by the young musician Enrico Saverio Pagano, conductor in residence at the University Institute of Concerts in Rome. He was only 19 when he founded this orchestra, which he has led in over 100 concerts on prestigious stages in Verona, Ferrara, Ravenna and Rome.
In 2021, the ensemble released its debut album dedicated to Giovanni Paisiello's works. And this year, on the 1st of July, the Canova Orchestra's second CD was released by the same SonyMusic label. The album features two iconic pieces by Ludwig van Beethoven - Concerto No. 5 for piano and orchestra and Symphony VII in A major.
I recommend the first of the two recordings, The Imperial written by Beethoven between 1809 and 1811 in Vienna and dedicated to Archduke Rudolf Rainer of Austria, the composer's patron and student. It is a print of the concert that was held in October 2021 in the Aula Magna Sapienza of the University of Rome. Soloist - pianist Gloria Campaner, a musician from Venice who has performed as soloist with the Filarmonica della Scala, the Royal Concertgebouw Orchestra and the Berlin Philharmonic. She is always interested in original projects, which combine contemporary dance, theatre and visual arts with music. Gloria Campaner is a creative and sensitive artist, endowed with remarkable expressive power and technique, qualities she showcases in Beethoven's Concerto No. 5.
Larisa Clempuș
Translated by Raluca Ioana Crucerescu,
University of Bucharest, Faculty of Foreign Languages and Literatures, MTTLC, year I
Corrected by Silvia Petrescu